In Harwich, we've extended this cooperative partnership approach to help new parents and families through the Harwich Community Partnership Council for Early Education (Harwich CPC). The headquarters, the Harwich Family Resource Center, is located within the Harwich Elementary School on South Street.
The CPC are teachers, administrators, day care providers, parents, as well as representatives of church and community groups, who share a commitment to bring quality, affordable programs and services to young children, their families and providers in Harwich.
We provide quality preschool experiences, giving priority to children who may be at risk and/or of low to moderate income working families. We support "Make Way For Kids" preschool, and provide financial assistance in the form of vouchers to families in need.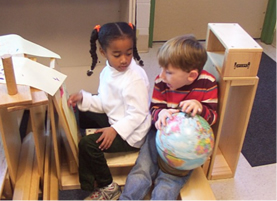 Our newsletter details programs from WIC services to new mom-and-baby groups, to playgroups for different ages offered by the Children's Place, located at the Harwich Community Center. We also sponsor teacher training, parenting workshops and different children's programs.
To fund these various activities, the non-profit Friends of Harwich Early Childhood hold fundraisers throughout the year including a Winter Carnival, a Thanksgiving bake sale, the annual family Sock Hop, and the spring Ice Cream Social at the elementary school. Through these and other activities, parents and their children get involved and realize they're part of this caring community effort.
Unfortunately, in these tough economic times, cutbacks are a fact of life. The majority of our funding is through State Department of Education grants as administered by the Harwich Public Schools. The public schools provide in-kind services as well as space for several of our ongoing programs. Fundraising and private donations go a long way to fill funding gaps due to budget cuts.
By making people aware of these programs and their importance to the health and growth of our community, we can work together to focus on what is important and keep programs like these working for our families and children.
Return to Community Action page