Christina Gummere Laurie joined the Pen Women in Worcester in 1967 and presently serves on the national board. She is a past president of both Wellesley and Cape Cod branches and also serves as state president. A former newspaper writer, she is the author of six books, including one of Haiku. A retired ordained United Methodist minister, she is a free lance writer who has lived on the Cape for over a decade and was formerly a summer resident all her life.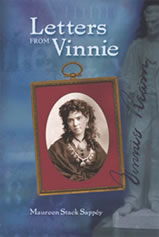 Letters From Vinnie
This historical novel, written by Pen Woman Maureen Stack Sappey, offers a unique perspective of Abraham Lincoln. Through the eyes of teenage sculptor Vinnie Ream, also a Pen Woman, we see Lincoln in unguarded moments of sorrow & joy, anxiety & hope.
Vinnie's singular vision helps us understand the man who mended our broken nation. Available at Amazon
NLAPW Launch Lincoln Legacy Book
Happy Birthday, Mr. Lincoln:
A Commemorative Collage
The National League of American Pen Women (NLAPW) as a pre-Lincoln Bicentennial Celebration event launched its book Happy Birthday, Mr. Lincoln: a commemorative collage
As a multi-faceted project designed to celebrate the life & legacy of Abraham Lincoln & disseminate a greater understanding of his concepts of freedom, equality & reconciliation, the NLAPW challenged their membership to produce artistic, dramatic, literary & musical works that speak to Lincoln's style of leadership, his contemplative character & his persuasive use of language.
Published by Pen Women Press, located in Washington DC, proceeds of book sales are used to establish a Lincoln Legacy Scholarship award for students that produce literary works of merit which best exemplifies one or more of Lincoln's contributions to the American ideals of freedom, equality & opportunity.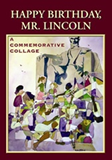 To order a copy of
Happy Birthday, Mr. Lincoln
Forward your name, mailing address & payment of $28 to:

NLAPW, 1300 17th Street NW
Washington DC 20036-1973