Working My Way Back Home
by Lynne Delaney
The clock on the dashboard flashes 10:30 pm. The red brake lights in front of me reflect off the windshield. The peaceful darkness of the night is drowned out by bright head lights roaring up behind me. I am on Route 3, heading South, and I am being tailgated as I pass Exit 9, then Exit 10.
After nine hours on my feet, tending to chronic, mostly bed-ridden pediatric patients in Boston, I crave some quiet, contemplative time on the road. I like it when the moon is out, watching over my travels. I exhale with relief as I cross over the Sagamore bridge, feeling safety and comfort in passing this threshold.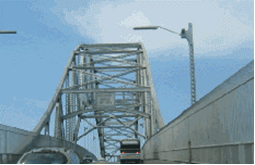 Crossing the Sagamore Bridge
With the bridge now far behind me, all I can think of is how much Cape Cod has changed. Perhaps five years ago – certainly ten years ago – the highways and back roads were nearly empty from Labor Day to Memorial Day. Now it feels like the city is creeping over the canal.
The landscape, culture and people of this place where I grew up are so different. I know transformations like this have happened more than once, and that my own fond memories took place on a Cape Cod that was dramatically altered from the one that the generations before me recall.
That is the nature of things, of course. And for all the population growth, the suburbanization, the tailgating that has come with this recent round of change, a lot of good, special, caring people have come with it. As I drive, such thoughts go back and forth in my mind, but really there is no question. This is my home. It is where I belong, and I have spent a lot of time working my way back here.
My husband Josh and I had our city time. At first, like many of our friends and acquaintances, moving over the bridge was an adventure and a welcome change from the Cape, which felt isolated and limited to our young minds. Then, curiously, we found that it wasn't so easy to get back to Cape Cod.
Housing prices soared while salaries remained static. We heard tales of old classmates who had moved away, for good, because they couldn't afford to come back home. We couldn't afford to buy a house either. But we bought one anyway.
Our house is a small Cape, on a half acre, in Brewster. It cost more than we ever imagined. The debt should have bought us three houses! But our house has good energy, a tree-filled neighborhood and memories of playing nearby with friends, when we were kids.
In a heroic effort to save costs, we fixed the house up ourselves; we re-shingled it, painted it inside and out, built new stairs, finished the basement, put in flooring in the half-finished attic and planted a garden to grow as much of our own food as possible.