After a quick tour of several newly renovated displays, we passed through "Bird Alley." Almost completed, this exhibit of bird mounts have been painstakingly restored and the background walls freshly painted by Marjorie Mellor, highlighting the birds individual habitats.
Ms. Knoss was quick to point out that the museum's volunteers, all winter long, used q-tips for cleaning and small brushes to repaint the birds for the new exhibit.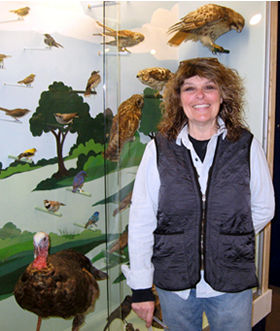 Barbara Knoss at the Bird Alley display Photograph by Barbara Struna
Glancing down the roster of scheduled events and classes, I wondered about all the outside activities that were listed on the schedules and asked, "What do you do on rainy days?"
With a chuckle, she replied, "We call out the SWAT team. It entails an extra 40 volunteers that report in to help with the overload of visitors. We usually have a list of spontaneous programs that we pull out when needed."
Always cheerful, Ms. Knoss is enthusiastic about the coming year. "We had a record number of kids coming to participate in our classes over the Spring Break and look forward to more of the same this summer."
She also mentioned a new program for teens from 13-18 called, "Art Lab for Teens." Guided by a certified art teacher, students will explore the museum's spectacular vistas, abundant animal and plant life, sketching, painting and printmaking.
Feeling inspired by all the activities offered at the museum and eager to take a walk, I thanked Barbara for her time and reassured her that I would renew my membership.
As she escorted me out, we walked into the great viewing room. The massive glass windows across one side of the building are breathtaking as they open to the marsh and the Atlantic beyond.
Up close the birds and squirrels scamper and flit across branches and limbs of a large tree, and feed at birdfeeders strategically placed within eye's view. Several upholstered chairs face the window where you can leisurely enjoy the antics of these feathered and furry friends that make their home on the Cape.