The Natural History Museum in Brewster: a place for birding, walking and volunteering
by Barbara Struna
The Cape Cod Museum of Natural History is alive and bursting with life.
From its humble beginnings in 1954, where it was housed under a tent, to the current 17,000 square foot building, this "natural" treasure nestled on 80 acres in Brewster and surrounded by 300 acres of town conservation land speaks to the very young and the young at heart.
On a recent Saturday morning, I visited the CCMNH and met Barbara Knoss, Volunteer Coordinator for the museum.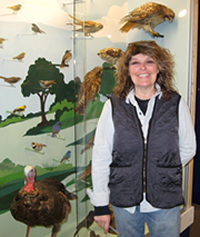 Barbara Knoss at the Bird Alley display.
A retired kindergarten teacher from Minnesota, Barbara had fond memories of vacationing on the Cape with her family, prompting her to settle on this sandy spit.
After arriving permanently, she happened to participate in a Wednesday Walk session at the museum.