Awaiting My Muse: Reflections on an Artist Residency in Ireland
by Jackie M. Loring
8:30 am, Friday, March 12, 2010
Artist Residency
Heinrich Boll's Cottage Doogort, Co. Mayo, Ireland
"My last full day on Achill and the sun greets me as I enter my work room, coffee in hand, to start my writing day at Heinrich's desk.
"The Ireland I've come to love, the west coast beyond Westport, Leenan, Renvyle Strand and Galway, is a blend of breath taking vistas of snow covered mountains that rise dramatically from the dark green/blue ocean (learn the shades of blue!), the smell of turf burning in grates and sheep bleating as they roam the roads, hills and the country side…
From JML Achill journal – 2010
A month later, at home on the west coast of Cape Cod, I read this on the Friday morning of a day filled with work and other essential tasks, responsibilities and people to email.
Would I take the time to look out my window to see what the tide was doing?
Continued

Summer Literary Series Begins Third Year
by Katie O'Sullivan
Where the Sidewalk Ends bookstore kicked off its annual author series in May with a visit from Ann Hood, speaking about her latest novel, The Red Thread.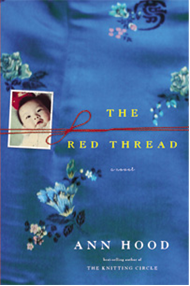 The weather outside may have been rainy and bleak, but inside the Chatham Wayside Inn the atmosphere was warm and bright. With self-deprecating humor and charm, Ann made the audience laugh and choke up with tears as she wove her tale, explaining the genesis of her latest novel.