Coming Full Circle: Healing Classes Offered at Deborah Ann's Rainbow
by Deborah Ann Hagen
Many years ago, I worked as a nurse. I was a great nurse, always well liked, good at what I did, very kind and very efficient. Unfortunately, I was too good and I burnt myself out.
I didn't take care of myself. I had no boundaries and couldn't say no to anyone. I literally worked until it pushed me into therapy. Once in treatment, I learned that the lack of boundaries and self-care were good reasons not to continue being a nurse.
During the worst part of my therapy, I was unable to take care of anyone, including myself.
Three or four years passed. I learned that it was okay to say no. That no one was perfect. That taking care of myself was a priority, and that I didn't have to be a nurse any longer if I didn't want to. However, after thirty years of being a nurse, what would I do?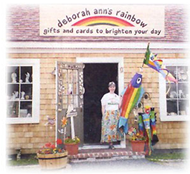 Many ideas bounced around my head. One day, I read an ad in the newspaper saying, "Open Your Own Gift Shop This Weekend."
I found out the location of the shop and looked in the window. I felt the energy that was here.
The idea for my shop flowed immediately out of my pen. Without any background in retail, I opened the shop.