Cape Cod Volunteers Bring Education, Art and Healing to Haitian Community
by Ellen LeBow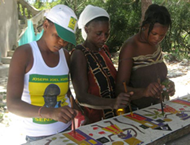 Matènwa Artists working on a Scarf, Photograph by Ellen LeBow
Walking down the dusty road in Matènwa this April, we passed the guys who play dominoes every afternoon, rain or shine.
A new caution kept them from crowding onto the concrete porch where they traditionally played. Now they pounded their dominoes down on a rocky rise beneath a blue tarp between two skinny trees.
The wind was high. As we passed, it lifted the tarp, snapping it with the sound of a sharp gunshot. The players flew from their chairs, one crashing down the slope with a terrified shriek.
In an instant, they were all laughing the embarrassed laugh of people whose trauma is still alive and well just below the surface of "life-goes-on."
As everyone knows, Haiti was changed forever on January 12 by an earthquake heard 'round the world. Images of apocalyptic devastation burned into our collective memories.
Haitians now mark time by before and after the "Trembleman De Tè a" – Trembling of the Earth.