Coming Full Circle: Healing Classes Offered at Deborah Ann's Rainbow
by Deborah Ann Hagen
Many years ago, I worked as a nurse. I was a great nurse, always well liked, good at what I did, very kind and very efficient. Unfortunately, I was too good and I burnt myself out.
I didn't take care of myself. I had no boundaries and couldn't say no to anyone. I literally worked until it pushed me into therapy. Once in treatment, I learned that the lack of boundaries and self-care were good reasons not to continue being a nurse.
During the worst part of my therapy, I was unable to take care of anyone, including myself.
Three or four years passed. I learned that it was okay to say no. That no one was perfect. That taking care of myself was a priority, and that I didn't have to be a nurse any longer if I didn't want to. However, after thirty years of being a nurse, what would I do?
Many ideas bounced around my head. One day, I read an ad in the newspaper saying, "Open Your Own Gift Shop This Weekend." I found out the location of the shop and looked in the window. I felt the energy that was here.
The idea for my shop flowed immediately out of my pen. Without any background in retail, I opened the shop.
If you've worked in retail, you know that energy and interest alone are not enough to run a business. There's a learning curve for how to buy, how to keep cash flowing, how to pay the bills, and how to keep up with all of the work. Unfortunately, the learning curve is steep, and in my case, very expensive.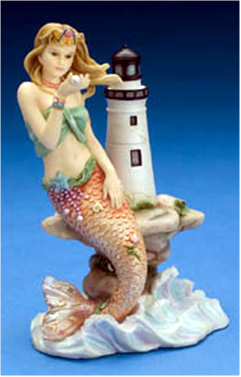 Cape Cod Mermaid One of a now discontinued
series called Syrens of the Sea, by Munro
For the past eight years I've been learning and growing as a businesswoman. Every time I thought of quitting, the energy here made me keep on trying.
Throughout it all, I never thought about returning to nursing. As difficult as it was here, I knew I could not go back.
I continue to own and keep the shop named Deborah Ann's Rainbow alive and growing. I've been blessed with loyal customers both on Cape and off who return again and again, giving me ideas for new items.
Over the years, we've drifted to a more metaphysical and New Age mix of mermaids, faeries, angels, dragons, goddesses, candles and incense, inspirational books and music, crystals, stones, and artwork, photography, and jewelry created by local artists.