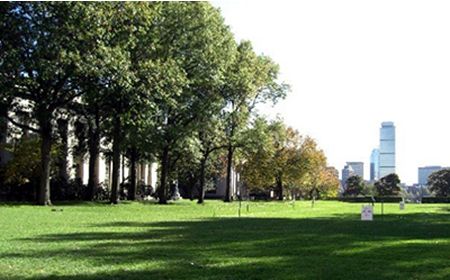 MIT's Killian Court, Photograph by Marcella Vokey
Five Secrets to College Life
by Marcella Vokey
I still remember the day I received the large tube in the mail containing, among confetti and a poster, my acceptance letter from MIT. Since then I have had many experiences as an undergraduate and now know the real questions an acceptee should be asking.
Here are five useful lessons that will help me through future applications to graduate school, and hopefully can benefit the next generation of potential collegians.
1. Colleges don't accept students incapable of handling the workload.
Freshman year was academically challenging, as anyone would expect when transitioning to higher education. My studies were the hardest they had ever been, but I learned to trust the admissions office and decided that these classes were still within my limits.
To me, this was a valuable realization. Often enough it seems like there isn't enough time, or the material is too difficult, for anyone to survive a semester – especially during final exams. Now, instead of dwelling on the seemingly impossible, this idea instills the necessary confidence for me to succeed.
2. Be Flexible.
Dorm life was another major transition. Sharing a room, in itself, can be frustrating if you're used to personal space. To my surprise, having a roommate was the best part of that first semester.
My roommate was someone to study with, eat dinner with, and go out with. While there is no guarantee that the people you live with will also end up being your close friends, being open minded and flexible made it easier to get along.
By not focusing on something petty like how messy her side of the room was, I was able to see how smart and fun my roommate was. There's no question we had very different personalities and living habits, but she is still one of my favorite people from MIT.
3. College is not just about the academics.
While very important, education has been a small part of my overall experience at MIT. Sports, clubs, and friends are also major parts of college life.
There are so many activities and opportunities that can enrich your life over the course of four years at college. Admittedly, I don't have a perfect GPA – it would be unrealistic given how many activities I enjoy doing. The friends, memories, and skills I've acquired from these extra-curriculars are as important to me as any A.
I've planned events for over a hundred people, made friends from all over the world, and have been published in both our school paper and student magazine. None of these things would have happened if I hadn't tried everything that interested me.
There have been semesters when I didn't participate in any activities, and while my grades improved there was little to keep me motivated and interested. At the very least, joining different groups gave me a good excuse to not do homework on those nights I couldn't face it.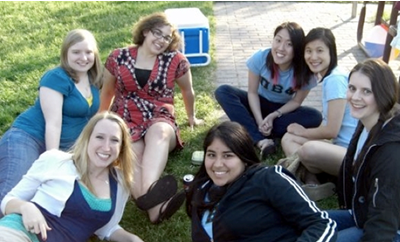 Marcella Vokey (in red) with her College friends