Puerto Vallarta, like a lover from a mysterious place, exceeded my expectations.
Hot, beautiful, diverse, cosmopolitan, artistic, quaint and grounded. Where old and new harmoniously and joyously entwine within the threads of a serape and the fiber optics of an Internet cafe.
A place that spurred my growing restlessness, my urge to once again be that rolling stone of my youth.
For years I've dreamed of immersing myself within a culture where I could experience the history of an ancient civilization blended with modern progression.
A place where I could practice a language I adored, and feel safe, captivated and motivated. This seemed like the place to make the fantasy into reality.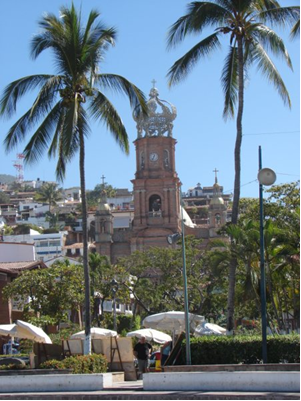 Our Lady of Guadalupe, one of Puerto Vallarta's best known landmarks
Wandering cobblestone streets, camera in hand, I located the Mexican neighborhood where I could fulfill my growing fantasy.
I returned from this vacation jaunt with renewed vigor and my thoughts racing – how could I make my pipe dream happen? With two dogs and an elementary-age child at home and two children in college, there were challenges to overcome. A stalled economy dampened my perspective as well.
Time to start scheming.
The first obstacle to hurdle would be how to finance this escapade. Living on the Cape, a desirable place to vacation, I thought maybe a solution would not be so hard.
Within a week of my return home, I met with brokers, photographed my home, and listed my house for rent.
Now it was time to start throwing this thought out to the family and see how they might react. My husband supported it. My daughter thought it was great. She would come visit.
My youngest, who will of course come with me, is on board and excited about our adventure together.
My son reacted with abandonment. "Wow, Mom, you really don't want me to come home this summer, do you?"
Well, come to think of it, no.
After living on the Cape more than a decade, my previous illusion of summer vacation has become a clearly focused sentence of slavery with its never-ending droves of company, lazy teenagers, bed stripping, cooking and cleaning.