Cape Cod Pen Women Launch the Shared Art Project
by Christina G. Laurie
Art, Letters and Music.
These three disciplines make up the National League of American Pen Women (NLAPW), and are being combined in a special project by the Cape Cod Branch of the NLAPW this year.
Last fall, the Cape Cod Branch, headed by artist Suzanne Packer of Bass River, and president Jacqueline Loring of Monument Beach, set out to create partnerships of writers and artists. The premise was to create a Shared Art Project show to be held in the Fall of 2010.
The idea for this creative venture began in June 2007, when the Wellesley Branch members were guests of the Cape Cod Branch at a garden tea, hosted by Cape Cod letters member Christie Lowrance, in Sandwich.
Artists brought an example of their art and writers brought a short piece of their work. At the tea, the creations were exchanged. Artists painted or drew to a piece of writing. Writers took an art piece and composed writing based on their inspiration from the artwork.
It was very successful and lots of fun.
In Fall 2009, each of the forty Cape Cod Branch members was invited to bring a piece of her own work to a meeting. It could be a painting, sculpture, photo, or weaving for artists and a poem, short story or excerpt from a book for the writers.
They were then paired together and spent the winter working on a common theme. As the artists and writers worked together, the challenge was to find a musical person to compose a piece to the theme each pair had created. So far one group of three is ready to perform and a dance group is working on choreography based on several works.
A preview of pairs was held at the April chapter meeting at the Falmouth Arts Guild. Six pairs of artists and writers presented their work. They came to the meeting with two pieces of art: the original work from last fall and the newly inspired work.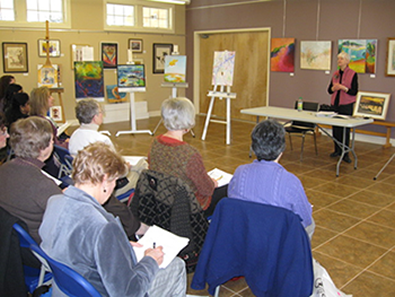 Carolyn Partan, the President of the Board at the Falmouth Artists Guild, welcomes the Cape Cod Chapter of the NLAPW to the Falmouth Art Center. Photography by Jackie M. Loring.
Joyce Utting Schutter, of Sandwich, created a painting illustrating Christina Laurie's prize winning poem, Winter Night.
The project continues, and the Cape Cod Branch is seeking more members to participate, For more information, please call president Jacquie Loring at 508-542-2013, vice president and membership chair Rev. Christina Laurie at 508-540-0762, or Suzanne Packer, secretary, at 508-398-1576.
The NLAPW, a 501(c)3 group, is the oldest women's arts organization in America, featuring all the arts of letters, music and visual art. The focus is on professional creativity and growth in one's own area of expertise.
Founded in 1897, NLAPW's purpose was to establish a progressive press union for the female writers of Washington, DC. Artists and composers joined their literary sisters by the mid-1920s, including prominent professional women such as Vinnie Ream, who sculpted the Lincoln statue standing in the Capital rotunda.
Other famous members include Eudora Welty, Amy Beach, Dale Evans Rogers, Gloria Vanderbilt, Edith Whatron, Julie Harris, Helen Keller and Carrie Jacobs Bond. First lady members include Eleanor Roosevelt and Jacqueline Kennedy Onasis.
The next meeting of the Cape Cod Branch is on Sunday, June 27, from 1-3 p.m. in Sandwich. This meeting is also the annual membership tea. More pairs will share their projects at this time.