The artistry and craftsmanship developed over the years, and by the sixth century A.D. a soap-makers guild was born in Naples.
In the 17th century, the Spanish kingdom of Castile became so famous for exporting their soaps made with olive oil that we still use the word "castile" today to connote an olive oil-based soap.
Hard bars of soap made with blends of various vegetable oils were popular in France and other parts of Europe throughout the following century.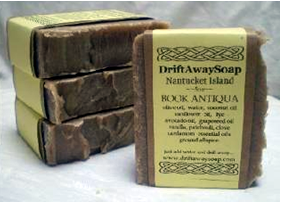 Given that soap was an extraordinary commodity that had sustained its purity for centuries, you may wonder why anyone wanted to mess with such a good thing. In the industrial era, new detergents and surfactants were developed that could degrease engines and lubricate factory equipment.
Next thing we know, this technology found its way into every mass-produced modern miracle designed to make housework a little easier, and eventually into our bath soaps.
These new detergents may arguably be efficient tools but our bodies don't need such harsh solutions. They dissolve grease so well that they not only wash away unwanted dirt but they make off with your skin's natural healthy and moisturizing oils, as well as the good bacteria that protects you from the more harmful types.
The problem can get even more serious. Some people develop Multiple Chemical Sensitivities that cause debilitating symptoms when they're confronted with artificial fragrances and other chemically engineered products.
There are studies tying this chemical overload to reproductive problems, mental health issues, and cancer, not to mention what happens to our planet as the chemicals decompose around us.
Over-exposure to these heavy-duty cleansers has subsequently created the need for a multi-billion dollar industry of additional chemical concoctions in the form of creams, moisturizers, and salves to replace some of what has been lost.
At this same point in time when I was immersed in this research, I was feeling the need to start contributing to my family's income. My husband is a hard-working carpenter and I'd been a stay-at-home mom of two awesome boys since 2001.
With absolutely no résumé or training, and one child still in preschool, I realized it was improbable that I might find employment of any substance. When you commit completely to motherhood, it is easy to let things slip by and lose sight of your personal goals.
Deep in the heart of the diaper days, I made a promise to myself that by the time I turned thirty I would master a new skill – something useful and valuable – and would thus become a more useful member of society.