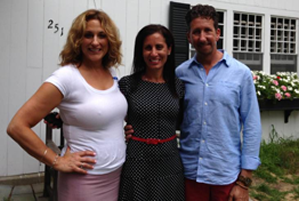 Authors Discuss Autism's Impact On Families At Craigville Retreat Center
by Johanne Kieffer
On August 12, 2013, a fundraising event called Autism & Authors was held at the Craigville Retreat Center, in Centerville, to benefit Cape Cod Village, a nonprofit organization dedicated to creating a campus style residential community for adults with autism.
WCAI's Mindy Todd, host of The Point on local NPR radio, moderated a panel discussion with three authors, Lisa Genova, Arthur Fleischmann and Susan Senator, all of whom have written books about autism and give a voice to those who cannot speak for themselves.
One hundred community members gathered around cloth draped dining tables, each topped with a bouquet of fresh flowers. The rustic, historic setting of Craigville's tabernacle evoked an atmosphere of days of old, when life was simpler and neighborhoods were like family.
The people drawn to this event resembled an extended family and were all filled with compassion for the needs of those with autism, caring deeply about those who cannot care for themselves. These likeminded people spanned the spectrum of professionals, representing a cross section of our Cape Cod neighborhood.
The topic was autisms' impact on families. Throughout the discussion, which included personal experiences related from the authors, in addition to discussions about their books, the audience listened intently to their perspectives on autism and their suggestions on how we can all help to improve the lives of families touched by autism.
Questions were opened up to the guests and the conversation flowed. It was as natural as sitting at the kitchen table chatting over a cup of coffee. There was nodding of heads, expanding comments and even a few laughs.
When Mindy Todd posed a question about guilt, and how to balance time and attention to other family members as a parent of a child with autism, author Arthur Fleishmann candidly responded, "I'm Jewish". The room erupted in a roar of laughter. For without humor how would families impacted by autism navigate and survive any of this?
I couldn't help but feel this room was filled with people who not only care about, but truly BELIEVE in our cause. The vision for Cape Cod Village is to "foster quality of life and well being, while providing safety, security, and continuity of care for residents throughout their lives."
Autism affects 1 in 88 and 1 in 54 are boys. There is no cure. Most diagnosed with autism require lifelong assistance in daily activities. Over the next fifteen years, an estimated 500,000 young adults diagnosed with autism will transition out of our school systems nationwide into an unknown future. What will happen to them? Cape Cod Village is answering the call.