by Jacqueline Murray Loring
At 6:30am on Saturday, July 13, 2013, as the sun rose above Albuquerque's Sandia Mountains, I was printing and collating movie scripts, ten at a time. I'd been up all night as part of a 48 Hour Film Project (48HFP) short movie writing team, www.48hourfilm.com/en/albuquerque.
Our responsibility was to write an original short, in 12 hours, then email it to actors and film crew by 6:00am. Within 48 hours the script would become 'Reel to Reel's' movie "Mistaken Identity" but at 6:30am I was stapling pages and handing them to an office full of sleepy people.
How did a Cape Cod writer whose preference is to squirrel herself away to write in silent, unobtrusive corners with a laptop, a cup of coffee and a view of a cranberry bog end up in such chaos? Purposefully, I'm proud to say...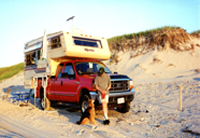 by Saralee Perel
Sandy Neck Beach on Cape Cod Bay is other-worldly all year 'round, but it's most incredible during the fall.
That's when my husband, Bob, and I have done most of our camping in a slide-on truck camper. That's a little metal home the size of a meatball, which fits on the back of a pickup.
We campers have a bad reputation. I'm here to debunk, once and for all, the stereotype of the Cape Cod RV owner.
In our storage compartments, there are no guns or beer cans. (Well, I do keep a dicing knife under my pillow. You never know.) We're a gentle bunch. We like to do nothing but sit and sweat.
Our days consist of applying three thousand layers of sticky bug repellent...
by Debbie McNaughton
On a cloudy October afternoon, a few years ago, I hired a company to cut down the oak tree on my front lawn. I couldn't stand to look at it one minute longer.
The acorns on my driveway were like a Special Forces obstacle course. I'd roll on them to my mailbox. One time I twisted my ankle as I carried the groceries from my van into the house.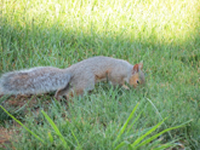 My new neighbor pleaded with me to control my leaves. I told her, "Bev, they have a mind of their own, sorry."
Have you ever noticed how a gust of wind will carry them away one day, but by the end of the week, after a visit around the neighborhood, they return to home base? They never leave (no pun intended), like a summer house guest who invites themselves until they realize flip flops and snow just don't mix...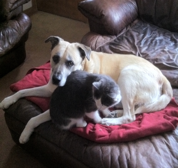 by K.S. Mueller
We covered Hector's stiff body with the red blanket that we kept in the basement. I carefully tucked all the corners underneath his body while we decided what to do with this big dog carcass.
Some time later, we decided it would be a good idea to let Hobie sniff, inspect and see Hector so he'd understand his pal was gone. I gingerly lifted the blanket and let Hobie check out Hector's stillness, as I continued to cry, uncontrollably.
Then the most extraordinary thing happened. I had gone to another part of the house, trying to keep myself busy, and I didn't see this occur, but Gil was right there and saw the whole thing...