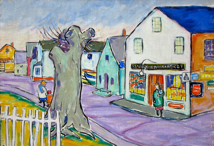 90 YEARS LATER…
Edith Lake Wilkinson is coming back to Provincetown.
An historic show of Edith's work will be on display at the Larkin Gallery, once the West End Market, which Edith had painted in the early 1920's.
The tree in the painting has since grown back its leaves and Edith's work is now out of the trunks and being shared with the world. We hope you join us in celebrating the liberation of Edith's art!
Opening Reception Oct 11, at 7pm
This exhibit runs from October 11 - 27
The Larkin Gallery 405 Commercial Street, Provincetown 508 487 6111
To view artwork by Edith Lake Wilkinson visit: www.edithlakewilkinson.com
Click HERE to read an article by Jane Anderson, Edith's Great Niece.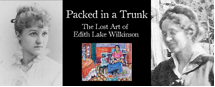 Packed In A Trunk - The Lost Art of Edith Lake Wilkinson – Trailer
This is a three-minute trailer of the upcoming documentary film that will celebrate the long-buried talent of the painter Edith Lake Wilkinson, who was part of the Provincetown art scene in the early 20th century, and produced an astounding body of work.
The Documentary follows Edith's great niece, Emmy Award-Winning Writer & Director Jane Anderson, in her efforts to find the answers to the mystery of Edith's buried life and return her work to Provincetown.