What's Happening To Our Environment? is a new column that explores issues that in our humble opinion are not getting enough press time. This is also a column for you to share your environmental concerns about issues that may not have a simple solution. By discussing them here, we hope to raise awareness of these issues and nudge those who CAN find answers into action.
In the first of this new series, we look at damage Cape Cod's oak trees have suffered after being infested by Crypt Gall Wasps.
Email your environmental concerns to Nicola@CapeWomenonline.com
What's Happening To Our Environment?
Cape Cod Without Oak Trees? Seriously?
by Nicola Burnell
To quote the inimitable British musician Joe Jackson:
"Cause if my eyes don't deceive me there's something going wrong around here."
In the Summer issue of CapeWomenOnline magazine, I asked readers to "look up" and examine the canopies of the oak trees in their neighborhood. The signs are so obvious they are hard to miss, but several months later, people are STILL unaware of this environmental nightmare playing out right in our own back yards!
Many of our red and black oak trees are suffering from a parasite called Crypt Gall Wasp, which is literally sucking the life out of them. If we continue to ignore this problem we may be looking at a future Cape Cod without oak trees. This would be a disaster, not just because our oaks are beautiful trees, but because they protect our little peninsula during very high winds by absorbing the extreme gusts with an almost synchronized dance of their canopies.
Crypt Gall Wasps are destroying oak trees all across the Cape from within their own vascular system by injecting their eggs into the trees' limbs. In return for this unwelcome gift, the trees then protect these eggs by building "galls" around them and feeding them their own nutrients all winter long.
Unlike Winter Moths, which can be controlled by spraying trees in early Spring, before the leaves emerge, Crypt Gall Wasps are so new to Cape Cod that arborists (and local government) are still learning about the life cycle of this tiny creature and are scratching their heads about how to stop it from decimating our trees.
Arborists are currently testing various insecticides, followed by heavy fertilization in the Fall, but everyone I've talked to tells me "there are no guarantees" that this treatment will even work. In fact, several tree experts told me to hold off on treating my trees because it is costly and it's probably too late to save them anyway. Sad news for a certified tree hugger.
My house is surrounded by tall oak trees. I've watched their nimble canopies swirl and bend under the sudden gusts of hurricane force winds. But many of my oaks are now very sick and I'm trying to imagine my land without them. I can't, so through this new column, I hope to find a way to stop this oak death before it's too late.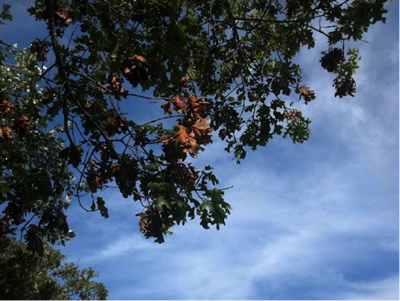 Brown leaf clusters seen in the late spring signal an
infestation of Crypt Gall Wasp
I first saw the telltale cluster of brown leaves last year in the oak trees right outside my bedroom window. I routinely have my trees sprayed for Winter Moth, so I assumed they were just leaves that had not fallen off the branches the previous year. I know, the trees had been bare all winter, but bear with me (pun intended). Bottom line is this: I ignored something that caused me to pause and question the health of my trees…big mistake!
By the time you see the dead leaf clusters in your oaks, it's too late to save your trees – the damage has already taken hold of the trees' delicate vascular system.