Moments are never lost. Each moment is a rendering of your living. The connecting of your moments is the true fresco that is the distinctive You. The sensations of your body, the sounds of nature around you, the sense of all that makes your life lies in each single moment.
Tic . . . Toc . . . Time wants to be "in charge," to remind you of your many "To Dos" and all your "Shoulds."
When Time is allowed to rule, you may feel inadequate for the seconds you let fall away unused, forever lost. As the days progress, these seconds accumulate such that the enormity in the lost minutes overcomes the awareness of the moments still before you.
Can seconds and moments co-exist? Can a finite second exist in an infinite moment?
Can the infinite moments of your day exist with the finite seconds of time? Does balance exist between this finite and infinite?
A soft voice says, "Yes."
It need be neither Time nor You leading your day. There is a place where both can balance together.
It begins with an awareness that time is neither good nor bad, wrong nor right. Time is the measurement of life's moments, the landmarks for your memories and navigation points for your hopes and dreams.
The day your child was born, the year you bought your home, the day you will get that promotion, the perfect vacation planned for your next birthday, such moments are the endless chain by which you live your life. Moments you then describe to others, cloaked in hours and minutes; at 9AM you did this, at 2PM you will do that.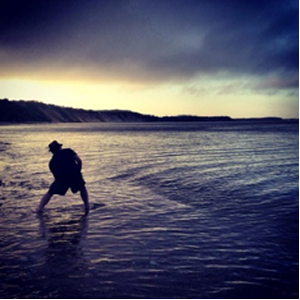 There are an infinite number of moments, from sunrise to sunrise, and these moments are your opportunities for Living Whole. This is the true meaning of Presence.
Time is simply a marker stone of a certain point in your life. You and Time can be partners, can share in this space, neither one being "in charge." Simply being, as both are meant to be, Time is your landmark of pasts and your navigation points to your future.
Moments are the space in which you experience, you master, you contemplate, you are . . . all that you are.
All Photographs Courtesy of Maggie French