The Massachusetts Cultural Council Honors the "Creative Community" of Barnstable
This Spring, the Town of Barnstable received the Commonwealth Award given by the Massachusetts Cultural Council in recognition of being a "Creative Community." The award was presented by State Senator Dan Wolf during a ceremony at the State House in Boston.
This award recognizes the long-standing commitment many have made to making arts and culture part of the economic engine in Barnstable. The HyArts Cultural District, the Kennedy Legacy Trail, Summer Concert Series, the Guyer Barn, Pearl Street artist studios and artist-in-residence all contributed to this recognition.
Town Manager Tom Lynch was joined on stage at the awards ceremony by Growth Management Director Jo Anne Miller Buntich, Community Services Director Lynne Poyant, Arts and Culture Coordinator Melissa Hersh and Channel 18 Producer and Host of Barnstable This Morning Sarah Colvin, along with Shirlee Oakley from his office and his granddaughter, singer and musician, Ella J. Hunt.
Wendy Northcross, CEO of the Cape Cod Chamber of Commerce, Kevin Howard, Executive Director of the Arts Foundation of Cape Cod, Bob Nash, Director and Lauren Wolk, Associate Director of the Cultural Center of Cape Cod were also in Boston to celebrate this event.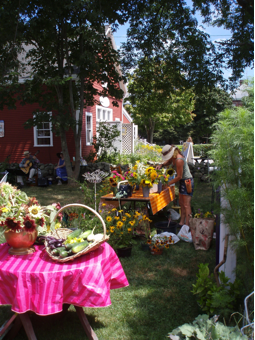 Flowers at The Guyer Barn
Hyannis is "Cape Cod's Downtown," serving as the regional transportation, jobs, service and commerce center for all of the Cape. The Main Street and Harbor areas include a concentration of cultural attractions - museums, performing arts space, studios, and galleries, unique locally-owned shops and restaurants.