Packed In A Trunk No More!
Readers Respond to Jane Anderson's article Packed in a Trunk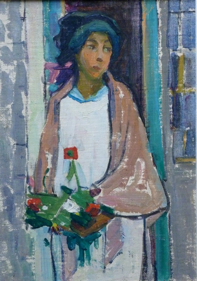 In the Winter Issue of Cape Women Online I wrote about the artwork of my great aunt, Edith Lake Wilkinson. The many encouraging responses from you all helped to propel us into the next phase of the quest to bring her work back into the light.
Stephen Briscoe of the Larkin Gallery discovered Edith thanks to the article and will be mounting a one-woman show of her work during Women's Week this coming October.
We are also in the process of making a documentary film that will follow me as I continue to solve the mystery of Edith's lost life and the journey to return her work to Provincetown.
Thank you, Cape Women, for all your fabulous support.
See you in October.
Here's to being seen!
Jane Anderson
Click here to read Packed in a Trunk
View a 1 minute Vimeo of Jane Anderson's upcoming documentary about Edith Lake Wilkinson here: https://vimeo.com/62213951
To view artwork by Edith Lake Wilkinson visit: