Creative Energy and Business is Blooming in Dennisport
by Kate Sheehan
After a decade in Washington D.C., Carlyn Carey returned to Cape Cod in 2006. The downtown Dennisport she found bore little resemblance to the one she remembered.
"After I left, it declined significantly," Carlyn explains. "I saw the blight, the empty stores, and felt compelled (to get involved). I wanted my daughter to have a nice place to live and a community to be proud of."
Carlyn joined the Dennisport Revitalization Committee, which she ultimately co-chaired for several years. The committee set out to "strengthen the area economy, revitalize the village and enhance the quality of life in Dennis Port Village," a mission that Carlyn quickly realized required rolling up her sleeves and engaging residents and businesses alike.
Today, evidence of revitalization is clear along Dennisport's Main Street, thanks to momentum built by the committee, a property manager with a vision, and a group of business owners who were willing to take risks to bring new life to the community.
Among those who showed up to catalyze change was Fred McFadden of Summit Realty Partners. In the fall of 2010, the group purchased the property now stretching from Buckies Biscotti to Jeremy's Barber Shop. A Milton resident with lifelong connections to the Cape, Fred saw an opportunity to bring year-round sustainability to the block.
"It was a dilapidated street and it was getting worse and worse," according to Fred. "Our goal from the beginning was to bring in the right mix of businesses to make it work."
Enter Alyson Bucchiere of Buckies Biscotti, one of the first new businesses to commit to the space. Fred envisioned anchoring the block with a coffee shop, which made perfect sense to Allyson. "It's the heart of a town, where people meet and hang out," she says.
Alyson explains that while she took a risk in being one of the first on the block to open, "(success) is about being excited about business," even in the face of challenges.
Her determination and willingness to be a year-round presence was an important element for Fred, who was looking for business models that could "tough it out" during the winter months and "flourish during the summer."
Despite the lines that form at Buckies May through September as visitors queue up for breakfast and lunch, Alyson feels strongly that "we have to be open for year-rounders. They maintain our business; locals really support us."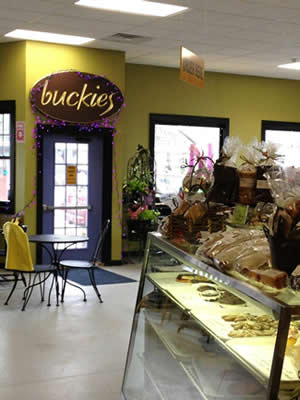 Buckies Biscotti
And it's not just the regulars whom Allyson feels a responsibility to. "Cultivating a company is part of my premise. I want to teach people to work hard, make them responsible and empower them. It's important to me to be open year-round, employing staff consistently."
On Memorial Day weekend a second Buckies will open at 554 Route 28, in Harwich Port. This store will be open every day at 6:30am and open at night for the summer season.
A sense of community also attracted Nicole Merriman of Hot Diggity Dog Wash and Boutique, which occupies the space next door to Buckies. Already established in Mashpee Commons, Nicole never set out to open a second location.
"My husband and I came to Buckies for coffee and saw the space next door. The idea for the dog wash and grooming just came to me in a moment and my husband said, 'Cool, we need to make that happen.'"