A Farm Fare Share
by Nicole Cormier, RD, LDN
Farm Fare Market, Delicious Living, Inc. and Cape Cod Heirlooms Farm got their "farm fare share" on this winter by coordinating a community supported food program that brings local foods to the table.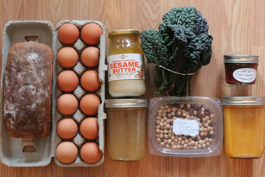 Partnering with Jennifer Ladd, of Cape Cod Heirloom Farms in Sandwich, we designed five bags for share members that included greens, grains, legumes, baked goods, farm fresh eggs, homemade broth, homemade hummus, herbs and spices, homemade soups and local cheese.
This program was inspired by combining a community supported agriculture (CSA) share and a food co-op that offers items ranging from Arapahoe wheat flour to farm fresh eggs. We are excited to provide locally sourced, fresh picked, handmade, sustainably grown, non-toxic, real food.
Each share week, we educate our share members about the foods they choose and how to incorporate them into their meals throughout the week. Recipes, nutritional facts, and suggestions are provided for each item.
And we're doing it again for spring.
Starting March 26, the Spring Farm Fare Share began their second community supported food program. The CSA shares will be ready for pickup every other Tuesday, between 3 and 6:30 p.m.
The five-week program starts March 26 and goes through May 21. Five CSA bags totals $250. For more details, call Nicole at 508-813-9282, or visit Farm Fare Market, at 68 Tupper Road in Sandwich.
The following are samples from the newsletters we include in each bag. This gives you an idea of the variety of foods, and the possibilities each one provides for delicious and nutritious eating!
SPROUTS:
Broccoli and Alfalfa Sprouts; Live food on your plate. These sprouts are still alive when you eat them. So, always eat raw. Dress up your salad with a handful of sprouts. One cup of sprouts = one pound of broccoli. Yes! Drizzle with olive oil, sprinkle with a little sea salt and enjoy as is! OR make a sprout sandwich from our last newsletter. These should last about 1 week.
HOMEMADE PITA CHIPS:
These are made from organic emmer wheat, grown in Mass, and Grapeseed oil. These are a great fiber part of your snack. Enjoy with a protein, such as hummus or bean dip or an egg salad.
HOMEMADE VEGETABLE STOCK:
Veggie Stock has chives, ginger, winter roots, like beets, carrots and squash. Ginger is great for digestion and adds the perfect flavor for cooking or as a clear broth. Add in your favorite elements for a homemade soup. This is canned, so once opened, please refrigerate!
HOMEMADE APPLE CHUTNEY:
Roasted Apple Chutney. A warming winter relish, made with rose hips, roasted apples, onions, garlic and spices. A perfect snack with pita chips, on top of scrambled eggs, ingredient for your own vinaigrette, with lentils and steamed rice or try it in a stuffed squash with quinoa. Please refrigerate.
HOMEMADE GRANOLA:
¼ cup per serving, with 6 servings per bag, made with organic oats, sunflower seeds, almonds, maple syrup, coconut oil and a touch of cinnamon. Make a breakfast parfait by sprinkling granola on top yogurt and fruit.