Message from Spirit
Channeled by Lynne Delaney
Springtime in Your Soul
Dearest beings of the new dawn, your planet is shifting into the season of spring in this hemisphere, allowing the sun to bring you warmer air, brighter light and longer days.
Thus, the soil thaws and the earth around you begins to awaken yet again. This is a spectacular spiritual event of transformative energy movements. It is a time when you are gradually changing from the quiet calmness of the inner spirit to the arousal and the enlivening of your body, mind and spirit.
It is a new beginning, a new season for you to step into your power, your creativity and your clarity about your life.
Having this gift of renewal year after year is an amazing blessing. As this massive movement of energy changes the physical plane, it also changes many parts of the spiritual planes. This is a true gift of starting over, of recreating who you are and bringing new life force into your ways of being.
Take advantage of this time of the year; really grasp hold of spring's potential as a catalyst to create major life changes to better yourself and perhaps those around you.
This is your life, your time to bring forth all of the ways you express yourself creatively. Fill your hearts up with love and feel like springtime in your soul as you open your spiritual eyes and see all of the opportunities the universe has created right before you.
Allow your mind to bloom with the energy of inspired thought and new vision for yourself and for the world.
As the flowers start to emerge from the earth and the trees begin to open their new leaves, new passions and talents will arise within you. Give thanks and know this is how your soul expands and expresses spiritual spring.
By opening up slowly in the present and blooming fully in the currents of this magnificent life, you will truly experience springtime in your soul.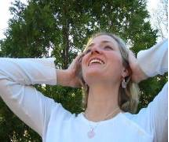 Lynne Delaney is a Conscious Living Advisor & Reiki Master. Her Reiki treatments combine intuitive energy work and crystals.
She offers private sessions in spiritual guidance, intuitive tarot, and hypnotherapy. Group sessions include table-tipping and transfiguration. With a background in science and spiritual studies, Lynne is able to better understand how both disciplines contribute to healing and well-being. To make an appointment, contact Lynne at (508) 241-3048 or email thenewconsciousspirit@yahoo.com
Lynne is also the editor of her husband's new novel Pieces of Eight.