We needed furniture, dishes, sheets and blankets, some new appliances. The list, like the work, seemed endless. But buying at flea markets and auctions was fun, and now we share those experiences with our guests, as so many items have a tale to tell. I felt as if we were creating a huge dollhouse, or a set for a theater.
We overflowed with enthusiasm. Each day ended with all of us sitting in front of the roaring fire in the great room, exhausted but happy, and planning the next day.
I am remembering the wonderful guests who have touched our lives and many who have become dear friends. Our first guest arrived a few days before we officially opened in April 1983, and she slept with Cindy's dog, Roo, to keep her company.
Judy Selvidge arrived as a guest, enjoyed 10 years of our hospitality, and then, loving Cape Cod and us so much, decided to move here. We immediately gave her a job, and she has become an invaluable Innkeeper and friend who has now been working with us for the past nine years.
One windy, cold night a young boy named Treg knocked at our door, looking for summer work. When Al asked him if he could make a bed, Treg answered without hesitation, "I can learn."
That attitude got him hired, and he was with us for years. He was the first of many, including his two sisters. Some work for one season, others for more, and a few for 10 to 15 years.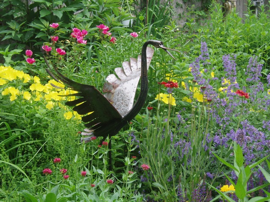 The picking garden for flowers that Diane puts in
every room of the Inn
We have had guests from all over the world and all walks of life. Many just pass through, but many others come back every year, some for a weekend, some much longer, and some for several visits each season.
There have been writers, artists, farmers, teachers, most any profession you can think of. The storyteller, the woman who communicated with bees, the douser. The young artist from the Netherlands with no arms who drove here from Boston on his own. The photographer also from the Netherlands who arrived to do a beer advertisement and found that our bottles were the wrong color.
Thinking of them all, and how they enriched our lives, I could go on for pages. The family dogs become Innkeepers, too, welcoming people and playing with or entertaining them.
Often we are asked what we do in the winter. We close for the five coldest months, and that time goes by so fast. When we are open we work seven days a week, so having time to do all the things we have been putting off is welcome indeed. Repairs and cares still must be attended to, and we do a huge cleanup in March so the place will sparkle for our visitors.
But even with the winter tasks, the pace is different. John and Cindy continue to finish the interior of their home. They do woodworking and art projects and relax with games, reading, and a little travel. I fill my days with art, reading, trail hikes and beach walks with my dog. (Did I ever really think that the wish to live by the sea would come true?)
I love old movies to stream in to the TV where I can cozy in and watch at home. We all put in time with the new toys of the time, the computer and the iPad. What luxury it is to get up whenever and not really have anything you must do that very day!