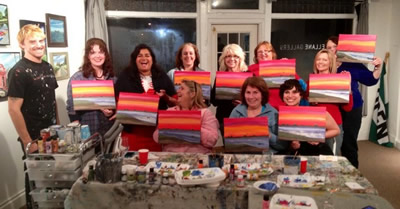 Playing with paint is not just for artists – anyone can do it!
Most Paint Parties are held on a Friday night, making it a wonderful way to wrap up a work week. "It's a great way to unwind at the end of the week," says Ellen Jolley. "It's something we don't usually take the time to do."
Some of the women have become regular participants and register for several sessions in advance. The success of these events is a pleasant surprise to Hans, who plans to keep his gallery open year round. "Each Paint Party usually sells out in advance," he says. "I'm really surprised at how popular it has become. I really enjoy it."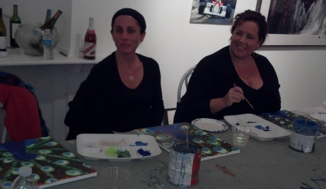 Author Lisa Genova is a fan of Han's Ladies Paint Parties
As brushes sweep across canvas everyone relaxes into a rhythm of storytelling and laughter. I find myself sitting next to author Lisa Genova and we are soon discussing Julia Cameron's The Artist's Way. "Before I start a new writing project I always read that book from cover to cover," Lisa noted.
As a teacher of this "journey into creative recovery," I agree that it's a great tool for getting the internal critic off your shoulder so you can relax into the creative process. We compare our emerging peacock paintings and agree that while they're not perfect, just applying the paint has put us into a calm, almost meditative state.

Constructing a painting, one brush stroke at a time
This is one of those rare situations in life where it's okay to mess up. Mistakes are opportunities that Hans uses as teachable moments. "Hans keeps it light and playful while instilling positive reinforcement and imparting valuable knowledge," says Christina Bologna, who has attended several Paint Parties. "I think part of the fun is learning that painting isn't just technical, but free and experimental."
Did I mention that we drink wine while we paint? It's not mandatory, of course, but it helps me to silence my internal critic. "I like the social aspect of drinking wine while playing with paint," says Patricia Monahan. "It's an evening of escape," notes Debbie McNaughton, who attends every Paint Party she possibly can. "It exposes the misty corners of my soul and shows me that I am creative."
"There aren't a lot of places women can go to enjoy wine and fellowship," adds Christina. "It's a beautiful time to explore art and femininity."
The Ladies Paint Party schedule is set through September. If you'd like to try your hand at painting something you might even hang on your wall check out the full schedule here.
Photographs courtesy of Hans de Castellane and Nicola Burnell
Nicola Burnell is the Publisher and a contributing writer of this magazine. She teaches a series of creativity development classes, including the Artist's Way, and also teaches novel writing classes through Nauset Community Education.
Nicola has been a Reiki practitioner and Personal Empowerment workshop leader for over fifteen years. She is a member in Letters of the National League of American Pen Women and is Historian of the Cape Cod Branch.
Follow these links for details about any of Nicola's CWO Classes or CWO Events or email Nicola@CapeWomenOnline.com.