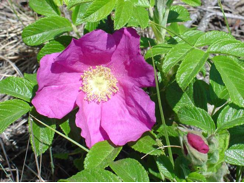 Taking Time to Smell the Rosa Rugosa
by Diane Kovanda
In our culture it is so easy to get caught up in the challenges of a tough economy, a bitter political climate, and the many requirements of daily life, that we often do not take time to savor the profound beauty that surrounds us here on Cape Cod. Savoring that beauty is one of the keys to recharging your batteries.
A few years ago, as the economy was taking a nosedive, I launched a training program for yoga and meditation teachers. It was the biggest challenge of my life – to follow my soul's longing to open this business. Most advice from friends and associates was kindly protective: "Do not start something new when other businesses are closing their doors."
I couldn't ignore the call of my heart though, even as my practical mind said, "You will be doing double, triple, the work with the state of the crumbling economy." I went ahead and now am so grateful that I am fully immersed in a successful, growing business that makes a difference in people's lives.
When I started my business, an older and wiser friend told me, "In owning a small business, you will be the CEO, the secretary, webmaster, and you will do the finances, the marketing, the cleaning, the maintenance, it never ends and you never sleep."
I can get completely lost in the multitude of tasks that need attending to at work, and I often forget to smell the roses. As I am busily returning emails, overseeing the fledgling finances, and working nonstop with our students and teachers, there are times I completely run out of gas. The sign that I am going off course is that I feel exhausted and sleep doesn't replenish the tiredness.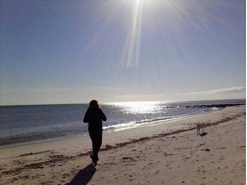 I have found that no matter what issues I face as a local business owner, many problems can be brought into perspective if I just take the time to breathe. To step away from all the action and just breathe.
Breathe deep as I take a walk outdoors – on the Cape we are surrounded by gorgeous beaches and woodlands. No matter what is going on at work, I try to take a walk each day in one of these beautiful places.