As I opened the doors to the tool shed, there was a musty, damp smell stinging my nose, so I left it all open in order to let it air out. I made my way to the back of the shed, having to move bicycles, grills, beach toys and chairs out of the way. All things franticly crammed in there at the last minute as I quickly prepared for winter when the first frost happened… almost five months ago.
Rakes, shovels, edgers and pitchforks all stand tall against the back wall. A small bucket holds my hand rakes, pruners, sheers and many pairs of worn gloves.
I'll be buying a new pair of gloves this season but I always have a difficult time getting rid of the old, used ones as they represent all the hard work my hands have done. I'm very dedicated to gardening and everything about it intrigues me.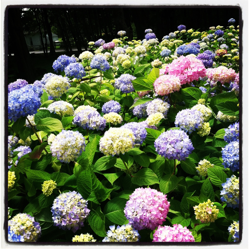 I've already purchased seeds for all types of lettuce, spinach and arugula. Also, I plan to pick up small established plants of all kinds of peppers, green beans and tomatoes at the farmers' market, which opens in early May and continues every Saturday on Old Colony Way in Orleans.
I set up several fences made of wood and metal for the tomatoes and beans to have a place to climb. It gives me great satisfaction to watch all my crops grow!
There's a constant buzz of lawn mowers and power tools starting up as people are eager to be out in their yards tending to whatever damage this winter's harsh conditions have left behind.
The Brewster in Bloom parade (this year scheduled for Sunday, April 28th) is always a sure sign that we made it through the coldest months, allowing us to embrace and celebrate the new season. The colorful, vibrant floats and creative, fun ideas are an excitement I look forward to every year.