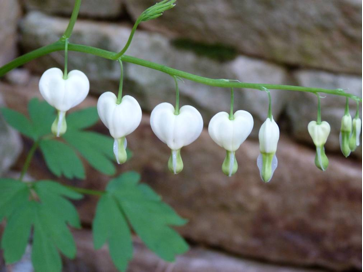 Photograph by Linda Ohlson Graham
Crows
by Kathleen Geagan Ryan
They mate for life,
dote on their offspring,
socialize.
When one of them dies,
they gather on branches above where the body lies.
Without calls or songs to sing
they wait
without warning, they arise.
A sudden, soundless flurry
black wings fill the sky.
Kathleen Geagan Ryan is a psychiatric nurse turned writer/wedding celebrant. In the language of archetypes she is a caregiver turned visionary artist. She lives with her husband in Brewster.
Cape Cod Spring Lament
by Annie Krohe
Yea, it is spring. At least it felt that way a week or so ago. The sun was
out, I swear. I saw it more than once. It's been grey, wet, soggy, damp
and dank. When I go out, I wear rain gear and muck boots. Water is
everywhere. The temperature is on the cool side. Flowers stand still in
the ground. And, if you were anxious and planted tomatoes, well…
They're doing nothing but standing still.
I have a good friend who says, "Ah, this is the perfect weather. I could
live with this all summer." I feel like punching him, but don't. I quickly
remind him that if we lived off the land, we would starve to death. I just
want the sun to shine enough so the veggies and flowers grow. It was a
long winter and it feels so unfair. But wait!
Looking up, I glance through the window.
There's the sun.
I saw it.
I swear it.
I really did.
Annie Krohe is an artist who lives in Eastham.