U.S. Rep. Keating, Other Civic and Business Leaders Celebrate Opening of WE CAN's New Offices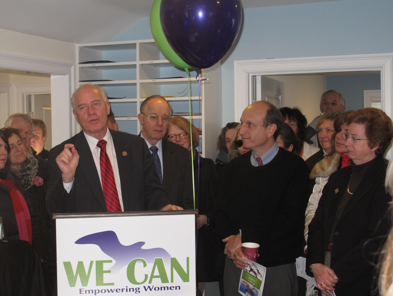 New Facility Enables WE CAN to Meet Growing Demand for Programs
and Services for Women across the Cape
WE CAN, together with U.S. and state officials, Harwich town representatives, business leaders, and community members celebrated the official opening of the organization's new offices at 783 Route 28, Harwich Port on January 25, 2013.
In brief remarks at the event, U.S. Congressman Bill Keating, Senator Dan Wolfe, a spokesperson for Representative Sarah Peake, and Cape Cod Five President and CEO Dorothy Savarese, among others, commented on the importance of the unique services that WE CAN provides.
WE CAN provides programs and services that empower Cape women of all ages to successfully navigate challenging life transitions such as career change, job loss, illness, divorce or retirement. The new facility will enable WE CAN to meet the growing demand for existing services and offer additional programs based on community needs.
"Now, in our 12th year, with this new space we are well-positioned to expand our services and value to the community," said WE CAN Executive Director Andi Genser.
"Our new handicapped-accessible office is a modest space that we know we will be able to maintain; yet it allows for growth and significantly improved service delivery including, especially, confidentiality for our many one-to-one services, such as Legal Consultations, Financial Empowerment sessions and Work Support meetings. And, we have greatly improved our visibility while maintaining our presence on a main road in Harwich Port, accessible, including by public transportation, from Falmouth to Provincetown.
"We are tremendously grateful to all of the men and women, including lawyers and finance professionals, who volunteer their time and talents, and the many individuals and local businesses who support us in so many ways."