Living Whole: Real, Not Forced. . .
by Maggie French
It is again Spring. The daffodils along Route 6A are in bloom.
Cape Cod reemerges from its winter slumber this time each year, bubbling up from deep beneath the sands of our beaches. No effort is necessary to bring it out, simply being with its natural process, its flow, one experiences all the Cape has to offer: its dunes, its beach plums, its pink sunsets. The flowers that bloom along roadsides and meadows.
With Easter so early this year, the stores have been displaying forced daffodil plants for a month, enticing us with thoughts of green and yellow.
I read that when flowers are forced to bloom early, it's difficult to get them to bloom again. Is it possible that being forced before your time to blossom, be real, may have you beautiful in the moment without an ability to sustain the image?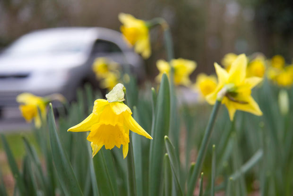 Like a daffodil, does your true Self appear and live in the light of this life, moment by moment, year in, year out when flowing naturally? Forcing your uniqueness may have you shining briefly only to fade, for it was too strenuous to sustain. The forced daffodil bulbs of Easter look wonderful but are gone too quickly after the excitement of the day passes.
We are driven to grow up, succeed, have. Leaving us to believe forcing ourselves in all these things somehow is the way to being real. I ponder the phenomenon called Facebook that pushes us to connect with friends, such that it becomes a contest of the number of friends one has, the development of actual friendships lost in the push.
We live in a world of instant and infinite connectivity. Daily we are bombarded to be authentic. We are led to believe when we are, we will be noticed. We will stand out in this instant infinite, a somebody.
There are self-help courses in "making your Facebook page original," to have you noticed above all the rest. So you quickly buy what they are selling to have your page bloom, yet still you have less than 500 friends, and are spending four plus hours per day keeping up.
There are ads upon ads proclaiming that being an ideal weight and wearing designer clothing demonstrates how natural and healthy you are. The effort to sustain this image eliminates everything from your life that truly is you, including the fuzzy slippers and 3-Cheese pizza. It is grueling. It is tiring. It is expensive. And, most of all, there is always something lurking in the shadows that can take it away.
Feel, Flow...
How do you find your authenticity in the bombardment of all that tells you what is "real?"
Feel, simply feel. Allowing yourself to feel your realness, being aware of when what you are doing flows, sensing what feeds your spirit, awakens the uniqueness that is you. Is it listening to music? Wearing hats? Playing the ukulele? Sitting quietly with the falling rain?