Workshops, educational series and lectures, as well as spiritual events were also well supported.
WAVE created a bi-weekly women's discussion group that is now in its third year. A wide range of topical discussion has included activism, politics, personal histories, poetry, The Vagina Monologues, Sex and Sensuality Series, movie nights, speakers and more.
WAVE has also been documenting personal stories and creating exhibits of women's experiences for public display. Storytelling through art is a unique language that cuts through all boundaries: social, cultural, economic, racial, and educational. It is a powerful and wide avenue for communication, clearing a path for understanding and unifying our human commonalities. It helps us find meaning in the senseless…order and reality in what may seem unreal, and connects us on an emotional level of appreciation to what may otherwise escape our comprehension.
WAVE recently brought Cape Women together in celebration of One Billion Rising, in solidarity for ending violence against women.
For the past two years, WAVE has produced successful exhibits, workshops and events, but the work with WAVE has only just begun. WAVE needs a physical space to continue this work on a larger scale – a place to celebrate our collective experiences and share our stories.
Funding is necessary to secure such a space. WAVE is seeking people who believe in this vision of celebrating story and leadership, and is calling for collaborators with courage who can help move this vision forward.
Web and social media support will also help WAVE become more visible on a local, national and global level. Board and committee members will help to support all of this process.
At the heart of serious social change is the honoring of girls and women. Together, we can decide what type of transformation we wish to see and the avenues of creating that into being.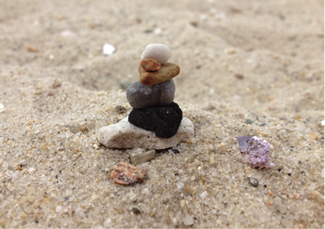 We can create change that deeply affects all of us, and the ways in which we honor each other, our communities and ourselves. I am extremely passionate about creating this space, and I am so very pleased to support women making waves on Cape Cod and beyond.
It is our stories that can move the mountains of oppression so our hearts can become the canvases of peace. Through the creation of a leadership center and a women's museum for exhibits, our voices will be heard!
If you wish to help WAVE move forward with greater collaborative power to create opportunities, instill respect, confidence and leadership, please contact me at peacefullypaige@gmail.com
Pamet Reflections Courtesy of Heather Blume
Photographs courtesy of Paige Riley