The important focus is not so much on the building itself but on how it allows us to provide improved, more accessible, and increased services for the women and families of Cape Cod."
Participants, volunteers, and staff also enjoy more privacy in the new space. Mary Jaynes, WE CAN's Program Director, believes that the new office's increased confidentiality conveys a sense of comfort and respect that is at the heart of the non-profit's philosophy of treating others as they would like to be treated.
"This life is like musical chairs," Jaynes mused. "Where we are sitting now may be very different from where we will sit when the music stops again. Although some of us have more privileges and others have more challenges, we are all the same."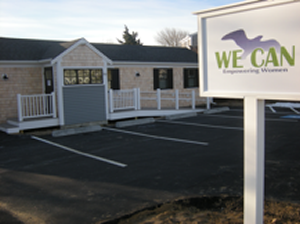 The new home of WE CAN is located at
783 Route 28, in Harwichport
An added benefit of WE CAN's new location is improved roadside visibility. Kara Kennedy Duff, WE CAN's Program and Administrative Coordinator, estimates that four new people walk into the office without an appointment every week. "It's not just participants," Duff said. "People who want to volunteer, people who want to learn more, and people who work for other organizations walk in."
WE CAN is also now able to host field trips. In February, the last senior class of Provincetown High School visited WE CAN's campus to be educated about the organization. "It was so neat to see them interested and thinking about who WE CAN helps," Duff recalled.
An increase in active weekly volunteers is another positive change that WE CAN's move has created. While there were 12 active weekly volunteers in the former office, there are now 23 in the new office.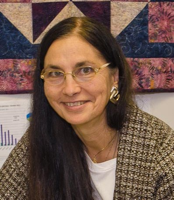 Stephanie Boosahda
Stephanie Boosahda, WE CAN's Data and Technology Coordinator, trains many volunteers on the organization's database, and she and the staff created a system in which volunteers can confidently assist the staff by allowing them to work with fewer interruptions while also serving more participants.