This is a year-round community of business folks, musicians, artists, authors, retired school teachers and assorted working professionals. A few residents come for the summer.
The park's owner maintains high standards. I drove around the alphabetically named streets: Arrowhead, Bayberry, Cranberry, Deer and Eagle. There was potential, but the units were seldom available. I kept looking.
Things fell into place quickly after I noticed a "For Sale" sign in B-12's window. A few days later, I paid the owner $30,000 cash for a 14x40' one bedroom mobile home in as-is condition. This gave me 560 square feet of living space with high ceilings, closet space and a huge deck.
I hired local carpenters to gut, remodel and paint my new home. I didn't scrimp. Had the bathroom and kitchen tiled, bought all new appliances and heating system, installed Harvey windows and put down new floors throughout. Total transformation!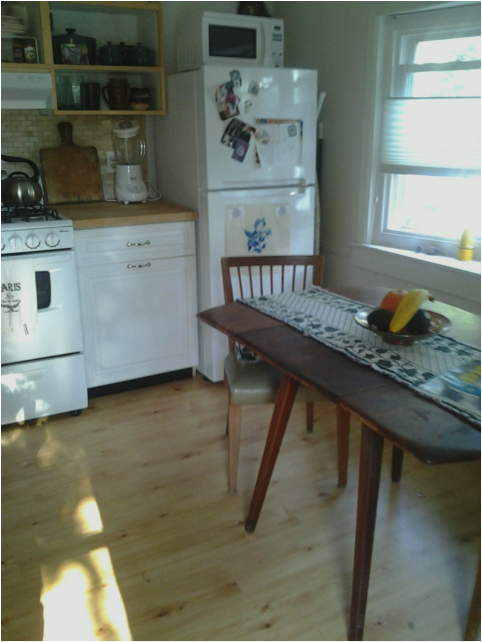 Renovations tallied up an additional $25,000. After I moved in, I added an 8x10' pine shed, an arbor and started gardening. There's even a picket fence. My very private backyard is a forest of songbirds and fireflies.
My monthly expenses are $450/month to lease the land, which includes snow removal, tree work and a dumpster. The park has a brand new septic system. My electric bill is $25/month, down from $250.
I maintain a part-time clinical practice because I want to, not because I have to. I paint every day, show my work locally and enter juried shows nationally.
I've drastically reduced expenditures. All superfluous 'stuff' is in storage. If the novelty wears thin, and I start to isolate, I can pick up the phone, drive five miles into town, get my mail and meet friends for coffee. The flex bus will pick me up at my door. I can even walk to the movie theater!
I am now a member of the small house movement. I'm a Tiny House blogger. Check it out. There are people who believe more is better and still put big footprints on this fragile glacial moraine.
Living in a mobile park is not to everyone's taste. But it works for me. There is no trailer trash here. It's pure joy to live debt-free. Downsizing has opened an enormous space in my life where there's always time to do exactly what I want.
Photographs published courtesy of Nancy Nicol