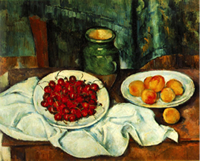 The Art of Eating Well
by Maggie Davis, MS, RD, LDN, FADA, FAND
What do the colors on your plate tell you about your health? Are there vibrant colors in your diet only because the fast food you buy comes colorfully wrapped? Or are your meals filled with the natural color and beauty of a variety fruits and vegetables?
Colorful foods are not only appealing to the eye but reflect a broad spectrum of the nutrients and antioxidants within. As a painter uses different colors and shades of those colors to create a painting, like Paul Cezanne's still life shown above, you can use colors to plan appealing and nutritious meals.
Even the herbs and spices you use to season and garnish your food can contribute to the overall nutritional quality of your food. For example, The turmeric that seasons your curry and makes it a golden color may actually help you to prevent Alzheimer's Disease.
Repaint your plate with colorful fruits and vegetables and replace starchy and refined foods with something each day from each of these color groups. Make your plate a work of art. Add nutrition and subtract calories from your diet at the same time.
Dr. David Heber at UCLA developed the "7 Colors of Health" which groups fruits and vegetables by the colorful pigments that represent the clusters of helpful substances that they contain. Ideally we would eat one item from each of these groups every day to lower the inflammation in our bodies and to reduce our risk of many chronic diseases such as heart disease, vision problems and some types of cancer.
Colorize your diet with a varied palate of fruits, vegetables, spices and herbs from the seven groups listed below: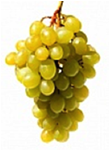 The yellow-green group includes garlic, onions, celery, white grapes, endive and chives. Onions contain allicin, which is known to have anti-tumor benefits, and other foods in this group contain antioxidant flavonoids such as quercetin and kempferal.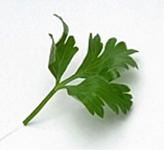 Green vegetables include bok choi, kale, cabbage, broccoli and Brussels sprouts as well as green herbs. These foods are sources of sulforaphane, isocyanate and indoles which help your liver to produce enzymes that break down carcinogens in our bodies.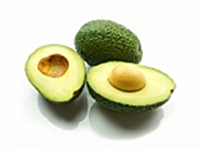 Avocado is from the yellow-green group which also includes foods such as spinach, collard greens, corn, green peas and honeydew melon. These foods are rich in carotenoids such as lutein and zeanthin which can promote eye health.