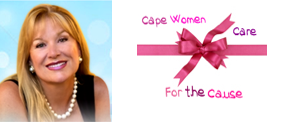 Cancer Q & A
with Kathy Kanavos
Ask Me Anything!
Kathy O'Keefe Kanavos addresses your concerns about Cancer
Dear Kathy,
I don't know how to express what I am experiencing. I think I will be diagnosed with breast cancer recurrence and I am scared out of my mind. My angst lacks words. I don't know how to write what I am feeling or how to formulate the questions I should ask you.
It just seems so unfair, doesn't it? The second time is worse! With the first diagnosis I knew or felt that I would be okay - but this time I'm really, really scared. Especially when the doctor said that if it proves to be recurrent that there isn't much they can do...chemo probably - yuck - and that I would have probably only have months??
And I was so shocked when I got the news during that appointment I didn't ask enough questions I guess - all I remember is that a lymph node on the left hand was affected. How does that equate with the breast cancer?
Barbara
Dear Barbara,
I am a three-time breast cancer survivor and understand your fear and concern. My cancer was 10 and 15 years ago before they had the improved treatments that they have today.
Recurrence is damned scary. I feel your fear. But recurrence is no longer a death sentence. I am living proof.
More patients than ever before are surviving cancer, including recurrence. And you can, too. Focus on that fact...and my mantra:"Find it. Fix it."
In chapter 9 of my book Surviving Cancerland: Intuitive Aspects of Healing, I talk about Dr. Nagourney, Medical Director of Memorial Medical Center, in California, who does Tumor Kill and Treatment Typing.
If you do not get information or results that put your mind at ease, research him. His contact information is in the resource section of my book. He may be able to help you. I used his expertise and was glad I did.
I hold you in my prayers. I know this is your Dark Hour of the Soul, but know that you are not alone. We, the other recurrence survivors, are here with you.
Big Hug.
Kathy
Dear Kathy,
I start clinical trial treatments on Wednesday for very aggressive stage 4 breast cancer! It's been two years of surgeries, MRI, Pet & CT scans and trips to Dana Farber. I am hoping and praying this treatment works. But I am scared of the side effects.
What is your opinion on clinical studies? Have you done any of them or heard from other cancer patients who have?
Brenda
Dear Brenda,
I have heard of wonderful results not only from clinical studies and treatments for breast cancer but for other life-threatening illnesses as well. I went to the Dana Farber Cancer Institute for my treatments and know that they are dedicated to finding a cure and have some cutting edge therapies that they are working on.
Yes, the surgeries are debilitating and the CT Scans and MRIs anxiety inducing, but think of them as part of the cure. When other cancer centers may give up, the Dana Farber keeps looking for a solution.
A cancer diagnosis is no longer a death sentence. If you are at the Dana Farber, your doctors are in your corner concerning this caner battle. They won't throw in the towel, so hang in there with them. More people than ever before are surviving cancer. Focus on that beacon of light.
Know that you are in my thoughts and prayers.
Kathy