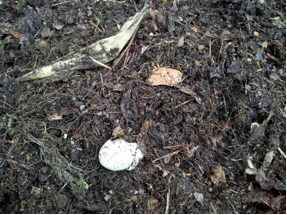 Composting: The Key to Successful Gardening
by Janet Eckhoff
When I started gardening, thirty years ago, the idea of composting was not just foreign, it was considered weird. I stumbled through my first few years without understanding much about soil, much less the idea of amending soil to improve my gardening efforts.
We moved to a new home and my soil was solid clay. We had a large old septic tank removed and I wanted to develop a flower garden in the spot which was now a huge pile of dirt right outside my back door. I had no idea how to amend the soil so I started by adding sand, which turned out to be a terrible idea and resulted in something that resembled concrete rather than soil.
Through trial and error, and advice from our local nursery, I discovered composted manure. It was expensive to buy enough for such a large area and really hard work to dig it into the clay.
I took the Master Gardeners program and discovered that soil was the most important component of successful gardening. I also learned that it was 'soil' and not 'dirt.' Never, ever call it 'dirt' to another Master Gardener! But even more importantly, I learned about composting and doing it myself.
I had always thought it was difficult, smelly and hard to get composting right. It turned out none of that is true.
Essentially, anything that was once grown, will naturally compost given enough time. I purchased a plastic compost bin online from Gardeners Supply for about $80 and was on my way.
After I moved to the Cape, four years ago, I had our carpenters build a large compost bin in the far corner of our backyard. I was delighted when a friend asked for my advice in renovating her existing beds and building a new compost area.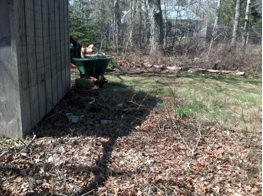 Nickey had an old composting pile that had been building up for over 10 years so she already had compost to use for her garden renovation this summer. The old site had been contained by wooden pallets which rotted out, essentially turning into compost too. This site was too far away from her kitchen to be practical in the winter months. She chose a new, more accessible site, in front of her tool shed.