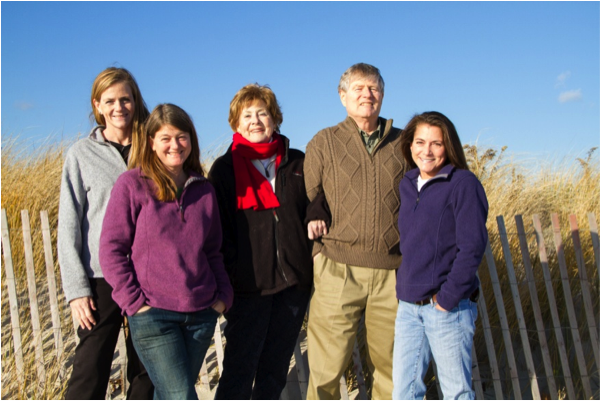 Family Photo – a Cape Cod tradition with (L to R) Katie O'Sullivan, Tamara, Barbara, Bill & Deb Flohr
It would've been easier to limit our activities, or put her foot down when one of us wanted to add something else to the already full schedule. But she didn't. She figured out how to get us to and from our activities and how to pay for the new gymnastic leotards or softball mitts.
Granted, my sisters and I all have specific memories of sitting on the curb in front of the school waiting for a ride, but looking back now I have no idea how she managed to keep any of our schedules straight.
When I turned eighteen, she and Dad moved to Vermont and bought a ski lodge. She put her tour guide skills into wider practice, helping guests organize vacation days and see all that Vermont has to offer.
After retiring from innkeeping, my parents moved to Savannah, Georgia, where she once again began volunteering and leading clubs and groups, organizing events and parties.
Moving back to New England was my father's idea, to be closer to the grandchildren, but she jumped right on board and into knitting clubs and gourmet groups, finding new groups of friends with passions similar to her own.
Mom was a master at organization when we were young, and rediscovered her skills when her grandkids visited. She always had a craft ready to go or an adventure planned out. She was the ultimate tour guide, with suggestions at the ready for any age group or time of year.
Watching her dote on her grandkids made me truly realize what a wonderful mom she'd been to us as well. Even as sick as she was this past year, she made it to almost every soccer game of my son's final high school season. She applauded my daughter, starring in her first big stage role as Titania in Midsummer Night's Dream and my other son in his high school production of the same play.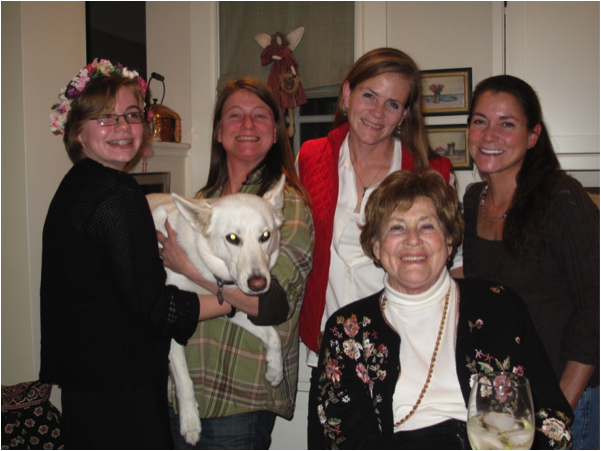 Barbara with her girls at Thanksgiving, 2013, (L to R) Granddaughter Teagan, daughters Tamara, Katie & Deb
Christmas was her favorite time of all. She'd start decorating the day after Thanksgiving, and the house would be filled with a warm glow and the smell of baking cookies all month long.
She had little use for winter once the magic of Christmas passed. This winter was particularly cruel and cold, the snow keeping her already frail body housebound. She hosted one last gathering of her knitting group in January, when she first came home from the hospital.