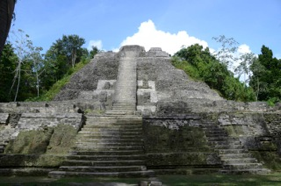 Lamanai Mayan Ruins
Caryn's Big Adventure
by Caryn Welz-Ritchie
Part One
While you are reading this, I will be in Belize. When I shared my idea of visiting Belize with the plan to move there in five years I was met with a lot of questions about Belize and my soundness of mind.
Of course questioning my decisions or my sanity only makes me more determined. So since January of last year, when I first hatched this plan, it has been "Belize 24/7" as my husband likes to say.
Since Keith and Joan will be coming along for this trip and hopefully the eventual move I thought they would want to be a part of the information gathering process. It amazes me how often I can be wrong. I was on my own, armed with the Internet, books and information from anyone willing to talk to me. If you had ever even flown over Belize, I wanted your impression.
I had forgotten how much fun serious research is. Each answered question leads to another unanswered one. Following the trail can take hours, days, even months. And it did.
For someone who has never actually set foot in Belize I have become somewhat of an expert. I can answer all Keith's questions, and have lessened some of his concern. Friends have had concerns of their own for us, especially about our safety. I find that ironic since I consider the US one of the most violent countries in the world right now.
One of the reasons I'm going to Belize is to get away from some of the everyday crime and murder. Is there crime in Belize? Absolutely. Where we are looking it is mostly "crime of convenience". Theft from an empty house, theft of bicycles and anything else left unattended.
The only places that really have a lot of guns are in the mountains where the drug cartels are. Now machetes can be found everywhere. But they have uses other than for killing someone. Anyway, I do feel safe going there if we abide by the rules: don't go out at night alone and don't flash money or jewelry. Hey, that sounds like how I prepare to go to Boston.
We plan on renting a car so we can drive to different areas of the country, but we are looking to live in the northern region. We all have different interests and Belize has something for all of us. Keith loves to fish and they have some of the best fishing in the world. Joan is an artist and history buff, so we will be visiting many Mayan ruins. I just want to touch all the animals on land and sea and bask in the sun.
It is fascinating learning about a new culture and a new country and trying to decide if you can fit in. As much as I want this to be the right place for me part of the year, I am realistic enough to know that it is not paradise. There is tremendous poverty, and even though I do want to live among the villagers and not in an ex-pat community, where we are looking has an acceptable standard of living for most people.
When I think about the things I might miss living in a third world country, my family and friends and maybe Dunkin Donuts come to mind. I am looking to be off the grid. Less news, less gadgets, fewer choices, less stuff. I want to de-clutter my mind and my environment.
Living in our fast- paced, totally connected society makes me tired. I can't treat everything as if it is an emergency that needs immediate resolution anymore. Step back and breathe. I'll let you know what I find in Belize, if and when I return.