Endings Have to Begin Somewhere
by Joan Graham
At the age of 14, at my progressive Quaker boarding school in New Hampshire, in addition to geometry and other academic subjects, I learned how to cook, milk cows, make butter, and shovel chicken manure. One thing I did not learn, or have any interest in learning, was how to weave, although there were looms and a teacher ready and willing to teach.
But somehow the seed was planted and as the years distanced me from that time, my interest grew. Eighteen years later, pushing my youngest son's stroller through Altman's in New York, I came upon a display of beautiful, handcrafted "women's work." There they were – weavings that were exactly what I would weave if only I knew how.
Before long, my baby and I were riding the rickety elevator up to that weaver's loft overlooking 14th Street, not chic then or even shabby- chic, just plain shabby.
Each week I sat at her loom and gave substance to the most beautiful yarns I'd ever seen – heather, oatmeal, dusty rose, fat homespun, camel's hair, lanolin-rich wool that made the skin of my hands soft, linen, smooth silk, nubby cotton.
I learned plain weave and intricate patterns and watched my sampler grow. Each week I brought along a big blanket, placed my son on it until he, just learning to crawl, would get to the edge where I would pick him up and put him back in the center.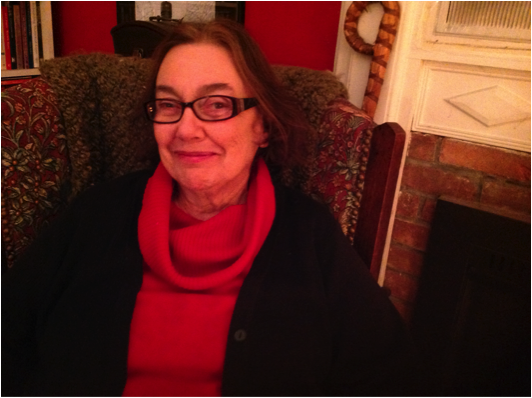 A former New Yorker, Joan Graham is a 35-year Brewster resident and a widowed mother of two. She enjoys wearing as many hats as possible, from writer to Realtor to bereavement counselor. Previously, she was the community relations manager for a large bookstore, a copywriter for New York publishing houses, and an antiques dealer. She thinks the only good things about winter are Christmas and making soup.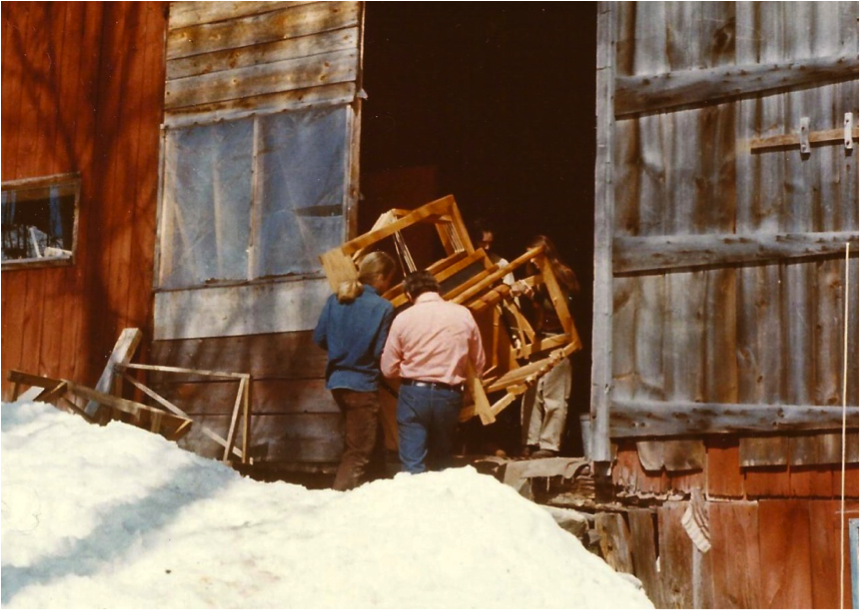 Joan's loom coming out of the barn where it was made in Putney, Vermont, in 1977.
When my lessons came to an end I wanted nothing so much as a loom just like hers – red oak, 60" wide, graceful, elegant, like fine furniture.
Built at a Vermont craftsman's gentle speed, in sharp contrast to an impatient Manhattanite eager to warp and weave, my loom was finally ready. My family made the trip to Vermont through the winter snow, with a U-Haul trailer obediently following behind.
When we moved from the apartment that tightly housed our family as well as our business and my loom to a spacious antique house on Cape Cod, the loom got a room of its own. I wove whenever I had the chance, often late into the night when everyone else was asleep, loving its possibilities, loving the peaceful rhythm of the shuttle flying back and forth.
Eventually, there was less time for weaving and it became a source of guilt as I passed through the loom room. We carried it to an outbuilding where it has sat for a dozen years, waiting. But, hands and eyes that no longer work as well as they should have convinced me that it is time to find a new home for it.
The intersection of warp and weft has always seemed to be a magical place. Now I seek my magic where pen meets paper.