Loving Your Health
How passion lights the fire in our hearts and minds for what we truly desire for ourselves.
by Shayna Mahoney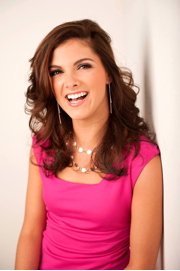 When I think about what I'm passionate about, I tend to think of spending time with family and friends, going to yoga, cooking nutritious and simple meals, walking my dog, singing and dancing.
But you know what else I am incredibly passionate about? It's inspiring women to be healthy and happy so they can reach for their dreams. When I first began my health coaching business four years ago, I had big dreams but didn't know where they would lead me…
I loved talking to my clients about whole foods, exercise, vitamins and self-care, however, I began to see a similar pattern with many of them. I had women coming to me who wanted to reduce anxiety and depression so they could feel energized, confident and happy without relying on a medication. They no longer wanted to be a slave to diets, sugar cravings and low self-esteem.
I myself have struggled in the past with these same emotions so understanding these women made me more passionate in helping them see what was possible for them. It was no longer just about what they were eating. It was about listening to their passions, dreams and desires for every area of their lives.
I have found that when I am coming from a place of passion rather than doing what I think I'm "supposed" to be doing, everything changes; making me happier, inspired and more excited to continue growing. If I'm feeling drained and unmotivated, it usually means I need to take a step back, rest and think about what I'm craving. And I don't mean snack cravings. I mean what my body, mind, heart and soul are craving. Am I craving time by myself with a good book and warm tea? Quality time with my husband? A massage? A long walk in the fresh air? A spinach smoothie?
I focus on what I need to do so I can then come from a place of passion in my relationships and work. This helps me to get in touch with what I really want and need so I can feel nourished and fulfilled. This then leads me to want to take better care of myself and be the best I can be.
I understand it can be difficult to find and ignite your passions when you haven't been in touch with them in awhile. I especially understand how winter causes low energy, sadness, sugar cravings, lack of focus and low motivation. This is known as Seasonal Affective Disorder (SAD). It is normal, especially on Cape Cod. However, there are simple ways to feel energized, happy and confident so you can passionately reach for your dreams, especially in the New Year!
The New Year is usually all about setting resolutions, but let's be honest - how long do they typically last? Maybe a few weeks; then what happens? Your motivation starts to fizzle. You get bored. You aren't living your true purpose and you may feel like something is missing.
What if 2014 actually could be the best year without thinking about resolutions?