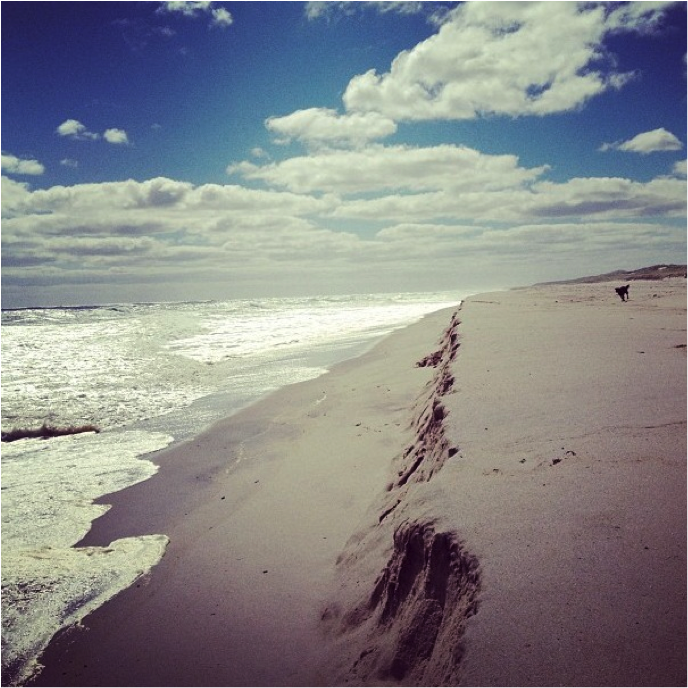 Nauset's Outer Beach
A Passion for Nature
by Grace Finch
When I received the topic of the Winter Issue, Passion, I was immediately flooded with emotions. Right away I started listing things in my head that I feel passionate about: family, friendships, writing, creating, loving and happiness.
Then I paused for a moment and thought about whether these were true passions of mine, or just feelings that are a part of everyday life. I decided to look up definitions of passion:
Webster's Dictionary: a strong feeling of enthusiasm or excitement for something or about doing something.
Urban Dictionary: when you put more energy into something than is required to do it. It is more than excitement, passion is ambition that is materialized into action to put as much heart, mind, soul and body into something as is possible.
Macmillan Dictionary: a powerful emotion such as love or anger.
When I read theses definitions I had to think about what I truly put my greatest efforts into and what actions I take to put all my energy into something. I thought of 3 questions to ask myself that may help me narrow it down.
What do you love to do?
How does it make you feel?
How often do you fuel this?
Here's what I am passionate about:
I love being surrounded by nature. When I'm outdoors I feel content, calm, and connected with myself. It's where I can sort out my thoughts and unwind while contemplating and feeling fulfilled. I fuel my passion by working as a gardener and being able to spend much of my time outside.
The most important part of my day is when I get out and enjoy the beach, woods, town park, my own backyard or just drive and taking in the sights and scenery. I embrace all of the seasons as they carry their own character and fuel my love for Mother Nature.
I became curious to see what others' are passionate about so I asked some friends the same 3 questions that I'd asked myself after reading to them the above definitions of passion. The answers I received were very different and intriguing.
Erin Hilley, of Brewster:
"Embracing, accepting and acknowledging the diversity and evolution of life in all things great and small is of most importance to me. I feel in awe at the complexity and beauty of life from the behavior and structure of living things and how they came to be. I see it in the bark of a tree, the interaction between two ants, the way my bird preens its feathers and the soft eyelashes of a cow. Yes a cow."
Rosie Hatch, of Eastham:
"Personal growth is my number one passion! Helping myself and others grow brings me great joy and inspiration. It makes me feel alive, real and content. Almost every day I learn something new about myself through every little interaction, being that with humans, animals or the weather. I live my life embracing all of its opportunities to learn and grow."