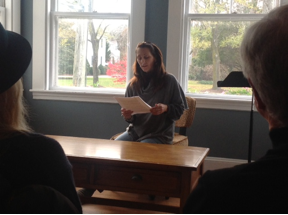 Kim Berner reads an excerpt from her work in the
anthology at the Chat House in November 2013
Contributing writer Kim Berner is thrilled with the accessibility of the eBook. "It is an amazing thing to have strangers read your work and be moved by it! To have those strangers then say, "hey, we're going to take your work and publish it", so that anyone with a computer, tablet or smart phone can download and read it, is pretty much an all-time best present! It is with a great sense of pride that I can now say you can find my work on Amazon.com or iTunes."
Kim was also impressed by the collaborative nature of the project. "Cheryl and Matt came to us with ideas about the cover, colors, fonts and the use of photographs based on having read the material while also listening to and allowing us input.
"We, the writers come together Friday mornings and write and read and listen and then write some more. So when we decided to put together a collection of our work that had begun in one of our weekly meetings, we truly thought, 'what do we have to lose?'
"In fact, we've had a series of wins. We have gone from a group meeting to write and support one another in that pursuit, to a group of published authors while also supporting one another as we navigate editing, social media, readings and press and PR materials."
Joan Barnes, owner and facilitator of the Dune Hollow Writers, in Orleans, was thrilled with the results of the project. "It was such a pleasure to work with the Provincetown Public Press in getting our anthology ready for ePublishing.
"Matt was accommodating and professional as we bombarded him with questions and worked to get the look just right. Cheryl oversaw the whole project with grace and organized expertise, getting our final product out just when we wanted it to be launched. I would recommend them highly and would most certainly go to them with future projects."
According to Irene, working with the Provincetown Public Press has served to strengthen the Dune Hollow Writers. "The Women Writers of Dune Hollow are closer and more appreciative of our separate talents and desire to contribute."
While the Kindle version is a text-only publication, the Apple version is illustrated with wonderful photographs by contributing poet Ginia Pati. She was inspired by her experience with the new imprint.
"The exemplary talents of Provincetown Public Press created a seamless journey from the solitude and intimacy of the author's word...to a lively page ready for sharing! Cover designs were generously drafted with imagination and flexibility, as Matt made his time and design expertise seem an effortless gift. So, together we wove a partnership, which he then offered like a warm mantle of shared pride! "
The Provincetown Public Press is currently accepting submissions through April 1, 2014. Submission guidelines must be met for all prospective entries and can be found by following this link: http://provincetownpublicpress.org/submission-guidelines/
To learn more about this community based library publication project visit
http://www.libraryasincubatorproject.org/?p=12790
For information about the Dune Hollow Writers visit: www.DuneHollowWriters.com
Photograph by Irene Paine