Some weeds are all easy to pull, like Chickweed, Nutsedge and Bittersweet, which are profuse in my garden and continue to grow all winter. In some cases, when you pull a weed, the frozen root dies, which this gives you a jump on spring clean-up.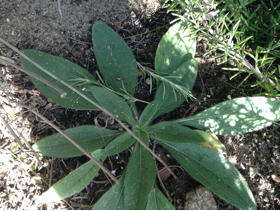 You can also continue to mulch the leaves that turn late in the season and seem to continue to fall well into January. There are so many benefits to mulching leaves rather than raking and carting them off to the dump. Use the mulch to enrich your garden bed soil and rejuvenate your lawn. A two inch layer of well-mulched leaves should eliminate sunshine and cut down on weeds in the spring.
Another difference I've noticed, compared to my Michigan garden, is that tulips come up beautifully the first year on the Cape but peter out the second and third years. In my house in Grosse Pointe, I had tulips that were 10 years and older, that came up year after year.
I was pleasantly surprised to find that even after I'd pulled certain annuals out the Cape Cod flowerbeds in the fall, like Dusty Miller and Impatiens, they came back again the next year.
Winter is also a great time for visualizing additions and changes to your garden. On cold days, it's lovely to sit by the fire and drink a good cup of tea (or wine) and peruse gardening catalogs.
I keep copies of any orders I make, along with photographs and catalog pictures, because the bulbs and plants arrive in a box with a small label and no photograph. When I get my shipment, months later, I don't always remember exactly what I ordered, or where I thought the plants should go.