Generally, Sissi works from snapshots, which capture her subject in a fleeting and unguarded moment. "I take many pictures from which I pick one or two that perfectly portray my subject in a style that is flattering thereby conveying the very essence of that person." Sissi believes a picture is worth a thousand words.
Portraiture can be the ultimate life affirming means of positive self-expression. "My desire is to offer a mirror to my client, one in which they can view themselves at that specific moment doing something they love or reflecting on something or someone that makes them feel happy, healthy and glad to be alive despite life's challenges."
In her efforts to explore her artistic talent more deeply and develop a wider audience, Sissi enrolled in art classes at the Creative Arts Center, in Chatham, this past winter with instructor Mary Alice Eizenberg. This experience helped Sissi foster an avid appreciation and fascination with still-life and life in general, which she says is all about capturing light.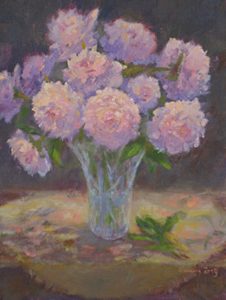 "Peonies", 2009, Oil on Canvas
by Sissi-Sneve-Schultze
This in turn has sparked her interest in en plein air painting. "There is something so spontaneous and alive about a painting done in nature. When I capture the light, I capture the essence and spark of life."
She recently participated in a workshop with Rosalie Nadeau, PSA. "It was such a privilege to be part of this group of talented artists, and Rosie is a both a fabulous artist and instructor! I had an inspiring and incredible weekend".
Sissi plans to take advantage of the opportunity to paint on location as part of The Eastham Painters' Guild, who meet every Tuesday at The Cape Abilities Art Center prior to their on-site artistic foray. She joined the Eastham Painters' Guild in the spring, where she participated in the outdoor exhibit on Memorial Day weekend.
The artist's next show will be held on Saturday, June 27 and Sunday, June 28. She will also display her work at the Historical Society in Eastham (the Old School House opposite from the Visitors' Center) every Friday and Saturday during July and August.
"The emphasis of my artwork is on all that is positive and life affirming," Sissi adds. "I want to know that every time the viewer gazes at one of my paintings that they are reminded of some favorite moment in time or some special place that imbues them with a sense of warmth and happiness. In so doing, I feel that I fulfill my destiny as an artist."
Snefrid Sneve-Schultze lives in Eastham with her husband Robert and their son Thomas.
P.V. Cowan is a freelance writer, editor, and intuitive counselor who lives and works in Eastham.

Return to the Summer '09 Creative Women page