Recommended Memoirs
Book Reviews by Pat Bertschy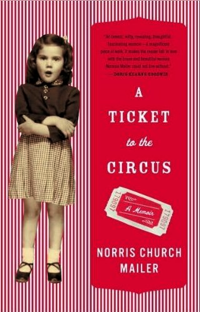 A Ticket to the Circus, by Norris Church Mailer, 2010
A Ticket to the Circus is the story of Norris Church Mailer, the sixth and last wife, she reminds us, of Norman Mailer, one of the most well known authors of the twentieth century.
Norris grew up in Arkansas where she met Mailer at a book signing. She was twenty-six, he was fifty-two. She sent him a love poem, followed him to New York, and married him. What followed was a roller coaster ride.
In A Ticket, we get to know the man Norman Mailer, as well as the writer. Mailer wrote plays, screenplays, and over thirty-nine books between 1948 (The Naked and the Dead) and 2007 (The Castle in the Forest.) He founded the Village Voice and wrote for 75 different magazines and journals. One biographer describes Mailer as the most celebrated and reviled writer since Edgar Allen Poe.
With surprising candor, Norris tells how she coped with his fame, his temperament, his seven children by five other wives, her child from a prior marriage, and a child of their own. She worked tirelessly to bring their children together and be a good wife to Mailer.
We hear first-hand what life was like to be married to him and move in his circle. Norris and he divided their time between homes in New York City and Provincetown, Massachusetts. If only for the circus, the book is worth reading. It is pure entertainment.