Mom, Madam Alexander, Mike and Me
by Jonnie Garstka
The Christmas when I was twelve was a very special one for me. I was the tomboy of the neighborhood. I could climb a tree faster than anybody. I could stand on my bicycle seat and ride down the street and I could hit a baseball as far as my brothers could. All of which were very important to me.
But when my mother asked me what I wanted for Christmas, I looked carefully around to be sure no one heard me and asked her for a doll. She asked, "Are you sure, Jonnie?"

Publisher's Note: We hope you enjoy these two very different Christmas stories by new contributing writer Jonnie Garstka.
The first story recounts a memorable Christmas gift, and the second is an Irish tale told to Jonnie by her mother.
A True Christmas Story
by Jonnie Garstka
My mother and I were sitting on the floor of my brother's closet playing with Puff's kittens. They looked like fat, miniature tigers as they stalked our hands. While I stroked their tiny, furry bodies, my mom told me how the striped cat got the "M" on her forehead.
The Blessed Mother was having a terrible time getting the child Jesus to sleep. She sang him a lullaby, she rocked him in his cradle, she carried him in her arms. But the baby was wide awake.
The animals in the stable gathered around and watched Mary's efforts with interest. They respectfully asked her if they could help. Warmed by their kindness, Mary nodded.

A Baby for Christmas
by Gwynne Wiatrowski Guzzeau
My son was born eight years ago and my favorite earrings arrived a year later with a matching necklace. The earrings and necklace were a long time coming. Gary gave them to me for Christmas, but he was supposed to give them to me when Garrison was born.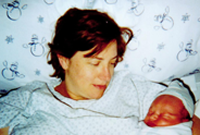 I never knew that husbands gave their wives presents when they had a baby until my brother gave his wife a diamond cross from Tiffany's when their first child was born.
"Can you believe it!" Cindy smiled looking up, hair washed, fresh make-up and Helena in her arms. The diamonds glittered in the fluorescent light of the hospital maternity ward. I don't know if he kept up that standard for the next two.
Well, at least I didn't ask for a diamond cross. Just a silver necklace from Tiffany's. It seemed so easy. I described it to my husband and even told him how much it would cost.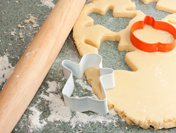 Sharing Recipes
by Gail Nickerson
I'm so glad we shared recipes.
This thought came to me as a wondrous epiphany as I searched through my recipes to share in a church cookbook we were compiling.
I found Sharon's Meatloaf, which was very moist and one of my favorites even though I'm not wild about meatloaf. I saw her several months ago right after she'd been operated on for breast cancer. A group of us 'survivors' got together for dinner to celebrate her good prognosis.
I found Alice's Cheese Dip. A simple recipe really, but one that was superior once it was served from a silver chafing dish. She was our supervisor at the newspaper. She died last year at 93. She was an excellent cook and had entertained lavishly when her husband served in the Pentagon.