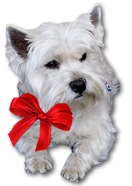 "Merry Christmas, Gigi. How's this for timing?" A naughty dog in the arms of a naughty boyfriend, or ex-boyfriend, both adorable.
"Faultless!" I said icily, reaching for Scottie's collar, trying hard not to smile.
"Did you get them?" He bent down and whispered in my ear, patting Scottie and not letting him go.
"The roses?" I feigned ignorance badly. He nodded and broke into his irresistible 200-watt smile. "Thank you, but…." I began.
"Don't be cruel, Gigi. I want to—"
"Want to what?" I broke in, proudly tossing my ponytail, remembering the past and feeling every inch his match.
"I was wrong," he said humbly. "Gigi, can you ever forgive me for what I did to what we had?"
He was melting my heart. It didn't help that Scottie also looked contrite. I sighed and went to turn away, but he took my chin with his thumb and forefinger and turned my face up to his. "Please, Gigi. I've changed. Things will be great from now on, like the old days. You'll see."
I paused to consider life without him. Life with him.
"I'm asking for a chance with you. For me. For us. You got the roses?"
"They're beau-tiful." My voice caught as a tear made its way down my cheek.
"And the note?" He brushed away my tear with his finger.
"Scottie ran out the door. I didn't have a chance to read it. Wh-what did it say?" What could it say? My heart was pounding. I thought I'd faint.
"Darlin', now, what do you think?" His navy blue eyes were directed full on me. My cheeks were fiery hot in the tingling cold. I could not turn away. "You're all I want for Christmas. Now and always. Marry me, Gigi!" With a jingle of bells, Scottie barked and sprang to the ground as he took me in his arms.
"Yes, yes, yes, Elvis!"
Jane Sarah Staffier is a summer resident of Cape Cod.
A graduate from the University of Illinois, she has a Master's Degree in Library Science from Rutgers University, and a Master's Degree in Fine Arts from Boston University.
A former librarian at Harvard University, Jane currently enjoys teaching art in the Boston area as well as writing and illustrating the Casey series of cards and books.
Visit her website at: www.bostonartboutique.com