The APCC works in all 15 towns of Cape Cod to protect our region, collaborating with state and regional agencies, local communities and other non-government organizations.
Currently, APCC is the host organization for the Massachusetts Bays Program, chair of the Cape Cod Business Roundtable, and participant on the state-level Zoning Reform Working Group, as well a working with the Herring River Restoration Committee.
Continuing through November, APCC is hosting a "Watershed Tour" – with forums held in various Cape towns to help citizens become more familiar with their watersheds and improve understanding of the impacts of wastewater.
The Herring River Forum will be held in Harwich on 11/18, and the Waquoit Bay Forum will be held 11/30 in Mashpee. A full schedule of forums and more information about APCC's activities, as well as opportunities for volunteers, can be found on their website.
GreenCAPE stands for the "Cape Alliance for Pesticide Education." Formed in 1998, GreenCAPE provides information about pesticides and a variety of other environmental threats.
They call themselves an "organically grown grass roots 501 (c)(3) registered non-profit organization" which coalesced to help protect the sole source aquife aquifer of Cape Cod. Their main mission is to identify the hazards of commonly used pesticides and reduce and eliminate unnecessary use of pesticides through adoption of safe alternatives.
Local Groups with Broader
Scopes and Agendas
The local Audobon Society sanctuary is on Wellfleet Bay, encompassing 1,100 acres of salt marsh, beaches, pine woodland, freshwater ponds and heathland, and attracts a wide array of wildlife, especially songbirds and shorebirds.
Programs for both children and adults are offered throughout the year (with special children's programming during the summertime), and the nature center and trails are open almost every day of the year.
In 1988, the Reserve was designated a National Estuarine Research Reserve for the purpose of studying this area in order to improve the understanding of coastal ecosystems and human influences on them, then translating that information to promote more informed decision making regarding coastal resources all along the East Coast.
The Reserve's headquarters is located at the historic Sargent Estate on the bluffs of Waquoit Bay, and can be visited during scheduled monthly tours.
The Reserve promotes "stewardship and estuatine awareness through outreach activities designed to inform and involve the local citizenry," in conjunction with the related "Friends" group, Citizens for the Protection of Waquoit Bay.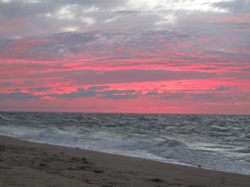 Race Point, Provincetown.
Photograph by Katie O'Sullivan

PCCS was founded in 1976 as a nonprofit organization to promote stewardship of coastal and marine ecosystems through research and educational activities.
PCCS maintains an 11,000 square foot "green" marine lab, where scientists and researchers collaborate on projects and share data.