Thirty-six enthusiastic Cape Cod summer writing workshop students inspired multi-award winning teacher Stephanie Boosahda to create this anthology.
"I would recommend this volume of prose and poetry to students and teachers alike," writes Kathleen Lenox, a school librarian from Orleans. "Students will find value in the writing exercises and the published works of fellow student writers.
Teachers will find the writing techniques invaluable and the writing a model for their own students. What a joy to read fresh voices!"
For a little humor in your holidays: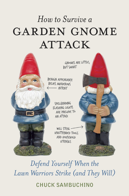 How to Survive a GARDEN GNOME ATTACK
by Chuck Sambuchino
This is a tongue-firmly-in-cheek book detailing home defense against deadly gnomes. Yes, the red-hatted, white-bearded garden variety.
Filled with faux serious advice and wonderful action photographs by Andrew Parsons, the book begins with the line: "Keep reading if you want to live."
The slim 112-page hardcover gives the reader "vital" information on assessing risk, gnome-proofing homes and gardens, and instructions for hand-to-hand combat, including a section entitled "Ten Tips that Could Save Your Life."
It's a fast, funny romp of a read that's guaranteed to make a reader smile if not laugh out loud.
While seed catalogs are usually all a gardener wants to read during the long winter months, this little "How To" guide makes a wonderful counterpoint to the more serious business of farming and gardening. Because, really, what good is picking out the right seeds from Johnny's Selected Seeds or the right tools from Gardener's Supply if in the end the gnomes take over your garden?
For a Coffee Table Instant Classic:
A favorite gift idea from the staff at WTSE is the 1858 Map of Cape Cod, edited by Adam Gamble and illustrated by Henry Walling.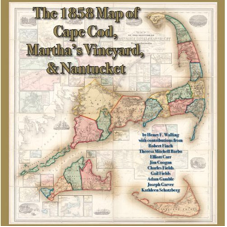 1858 Map of Cape Cod
Walling was a 19th century map maker, and this coffee-table style book is based on his five-foot by five-foot "1858 Map of the Counties of Barnstable, Dukes, and Nantucket Counties."
The book showcases each county, town, village, and the major bodies of water that surround and connect them, including each home and business, road by road, with the names of 19th century property owners and important geographic features. These maps were originally produced at a time when industry was going strong on Cape Cod, and whaling and salt-making were still a way of life.
The book also includes commentary from some of the region's most insightful writers and scholars. Readers are able to view and understand 19th-century Cape Cod and the Islands in a new and detailed way. This book will fascinate both history buffs and anyone who just loves the Cape.