Living The Dream
by Suzanne Tonaire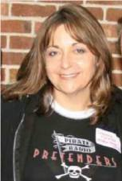 Faith: the confident belief or trust in the truth or trustworthiness of a person, idea, or thing. Throughout my life, faith has been a driving force in its journey.
I was blessed with parents who nurtured my musical abilities. From the age of five and through middle school, days were spent singing and playing the accordion. In high school, it took on a more serious note and I began professional vocal training.
In college, Music Education seemed the logical choice, giving me the chance to study voice with some very talented teachers, including renowned Boston Opera singer Eunice Alberts. Little did I know then that the discipline learned with classical training would be the foundation I needed that would lead me down the road in pursuit of my dreams.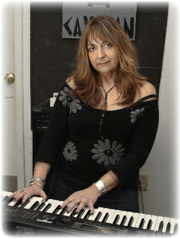 Let's flashback to the year 1980.
My college roommate had a brother who studied rock/jazz guitar at the Berklee College of Music, in Boston, and was looking for a new lead singer in his band. Something ignited: I wanted this gig! So I auditioned and became the new lead singer for the band Elusive Butterfly, a Rhode Island nightclub act that was well established in the area.
Life was good. I was young, single, living on my own and making good money. The local celebrity status wasn't too bad either. Now I was "living the dream!"
A few years later, I got into a bad accident and broke both ankles. It left me on crutches for quite a few months. The band broke up and so did my life. It was around that same time that my Dad lost his battle with leukemia. I had little money. Things couldn't get any worse. But faith kept me going. I recuperated in time to enter a talent and beauty contest for the title of "Miss Northern Rhode Island" which, much to my surprise, I won. With that scholarship money in hand, I decided to go back to college. This is where the radio bug bit me.
Stepping foot into the Dean College radio station, WGAO, I felt right at home and was convinced that my beloved deceased Father sent me there. I actually remember getting a chill when it all hit me! You see, during World War II, Dad was a Navel radio operator on the USS Helena, a fighter ship. He had indeed guided me to this pursue this profession.
After graduation, I moved to Cape Cod and immediately began working as a disc jockey (DJ) at WKPE.
Soon after, I caught wind of a new radio station ready to launch an exciting new format to Cape Cod listeners.